Senior Gift Funds Abolition
Alongside familiar senior class gifts to expand the library's book collection or to purchase an ornamental statue for campus, paying to train and send slavery abolitionists to Africa to help secure the release of indentured child workers might be considered unconventional or even bold.
In fact, it was meant as a kind of billboard of USF's values, said USF Assistant Director of Annual and Special Giving Christopher Anderson '06, who came up with the idea of a senior gift scholarship intended to pay for a few highly qualified but fiscally limited underclassmen to experience how much of the world lives by spending time in a developing country.
From San Francisco to Uganda
Christina Hebets and Hannah Mora weren't the only USF students to travel to Africa in the summer of 2009.
USF's Erasmus living-learning community, which chooses a different social plight to research in-depth and work on behalf of each year, sent 11 students to Uganda for more than two weeks to visit with U.S. Embassy and Jesuit officials, nonprofit leaders working on behalf of victims of human trafficking, and to talk with some of those who managed to escape slavery to start new lives.
"Uganda, which has experienced two-decades of civil war, was selected because we were studying human trafficking and particularly child soldiers in support of the Not For Sale Campaign," said Mike Duffy, director of USF's Joan and Ralph Lane Center for Catholic Studies and Social Thought and an Erasmus faculty adviser.
"In the northern part of Uganda, near Gulu, we were fortunate enough to visit an Internally Displaced Persons (IDP) camp, where we saw first hand the dire situations under which people were living," said USF junior Annabel Cassady, a politics major and the USF Not For Sale Campaign Club president.
Junior Erika Myszynski, an Erasmus Community student, has produced a 17-minute documentary, Ugandan Days, about her experience in the East African country to be submitted to film festivals. "My primary method of involvement has been spreading awareness and creating public concern that ultimately perpetuates action," said Myszynski, an international relations major and an aspiring journalist.
"The idea was to provide current students with the opportunity to fund scholarships and give back to students following in their footsteps," said Anderson, who developed the idea in consultation with the scholarship's inaugural 2008 senior class, University Ministry, and the Not For Sale Campaign, the nonprofit chosen to coordinate the scholarship winners' training and travel.
Seniors rallied behind the idea, donating about $10,000, the most ever contributed as a senior gift. The money paid for the training and travel of two USF students to conduct research on human trafficking and work as abolitionists during the summer of 2009, Anderson said.
It was so successful, the scholarship is underway again this year.
"This is all amazing!" wrote sociology major Christina Hebets '08 in an e-mail during her two-week trip to a region near Lake Volta in Ghana last July. "We spent a week in Kete-Krachi and 'rescued' five children who all came back down to Tema with us."
"Rescued," as she learned, can be a loaded word among a fishing culture that has made a livelihood buying children as workers for decades. In fact, the children were freely released by their owners after members of the nonprofit, a Not For Sale Campaign affiliate, that Hebets volunteered with explained to the fishermen that what they were doing was illegal.
Thanks in large part to the scholarship, which not only paid for her travels but for her training and certification as a human trafficking investigator, Hebets' interest in the developing world grew, leading her to land a job as the Not For Sale Campaign's international operations manager. She is also a University Ministry resident ministry intern on campus, where she is able to share her experiences with current USF students.
Senior Hannah Mora was the other recipient of the 2008 senior class gift scholarship. "In Uganda, I worked with Not For Sale to create a coalition of non-governmental organizations (GUSCO, Kids in Need) and representatives of law enforcement to work together effectively in order to address the issue of human trafficking within the country," Mora said.
A theology and religious studies major and a Catholic studies and social thought minor, Mora also helped map instances of human trafficking using GPS.
"Reading the cases of these people allowed me to look into personal stories and recognize the traumatic effects that the global slave trade has on these women and children," said Mora, who was in northern Uganda where decades of civil war have led to children being used as soldiers.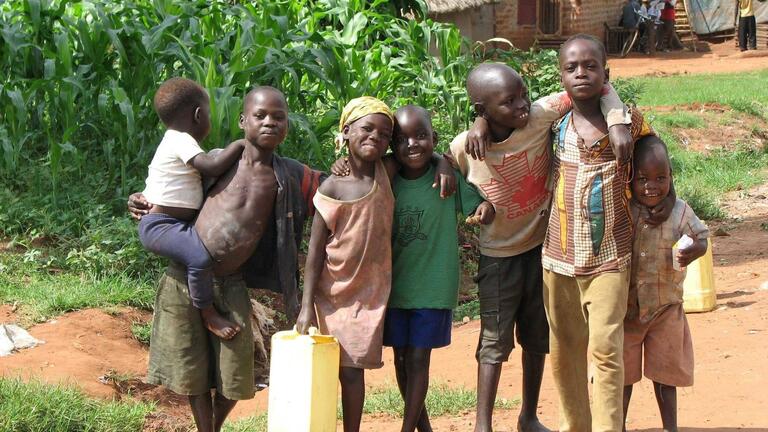 Senior gifts funds abolition