Giving
Scholarships Help Close the Gap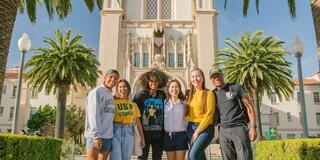 The University of San Francisco makes supporting first-generation and under-represented students a priority. Committed to serving those in need, USF provides scholarship support and makes education accessible to 37% of students who are the first in their families to attend college.
Scholarships are a point of pride at USF. Last year, the university publicly launched Changing the World From Here, a $300 million fundraising campaign with a focus on students, programs, and facilities. A primary priority, and one-third of the campaign, is to support students through financial assistance. With over 2,100 different scholarship funds, USF provides a menu of opportunities for students. In the previous five years, the university has raised over $162 million to support students through this important and formative time of their lives.
History of Support
A majority of the scholarships at USF bolster and provide support to historically underrepresented students. Over 130 undergraduate and graduate scholarships have been specifically created to support students who represent first-generation, people of color, female-identified, need-based, and veteran student populations. USF has been committed to social justice since its founding in 1855, creating educational access avenues for underrepresented students for the past 165 years. This year, USF jumped 16 spots in social mobility, ranking 80th in U.S. News & World Report for 2021.
Philanthropic support of scholarships provides students like Marissa Lopez '21, recipient of the Read Scholarship, with opportunities to pursue her dream of attending USF.
"When I first got my acceptance letter to USF I didn't get too excited because I knew it was just a dream. My family was supporting my two other sisters through college so I knew I wouldn't be able to attend without significant assistance. After I received the notice about receiving a scholarship, I felt like my hard work had paid off. All those years of saving for college and studying for several hours with a learning disability was worth it. I am so lucky to have the opportunity to go to USF and thrive here."
Philanthropy Deepening the USF Experience
Scholarships can serve as a catalyst to attract under-represented students to higher education. Marissa Lopez '21 is one of 1,000 donor-funded scholarship recipients last academic year, whose experience at USF has been deepened through the power of philanthropy. Peter Wilch, Vice President for Development, reflects,
"When we receive gifts to support students from historically underrepresented populations, the philanthropy not only impacts the student, it also provides a lift to their families, and to their communities. Many of our alumni were first-generation college students themselves and their lives are an embodiment of the promise we see in our current students. Access and social mobility have long been a part of our Jesuit DNA."
By prioritizing scholarships for first-generation and students with financial need, USF is a critical player in creating a diverse and dynamic workforce. The University of San Francisco is a top national university for campus ethnic diversity, ranked by U.S. News & World Report for 2021, tying with Stanford for fourth in the nation.
Angelika Williams, Assistant Vice Provost for Student Financial Services, says "at USF, it is our goal to positively influence students' persistence and encourage their determination by offering unlimited opportunities." When donors invest in students through scholarships, USF distinguishes itself as a committed and diverse, socially responsible learning community for students who are changing the world from here.
Join us in helping close the gap to educational access, give to the USF Scholarship Fund »