Passion for Justice
A Scholarship to Remember George Floyd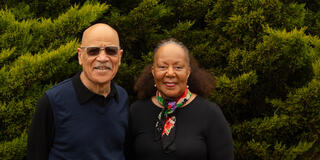 On May 25, 2020 four police officers in Minneapolis were involved in the arrest and murder of George Floyd, a black man in his mid-forties, who had been reported as using a counterfeit $20 bill at a convenience store. When the police arrived on site, Floyd was pinned down with a knee to his neck, leading him to become unconscious, and resulting in his death. A bystander recorded the incident on video, it went viral, and in the next few days protests took place worldwide.
Dr. Michal Settles EdD '91 is one of the many millions appalled and heartbroken over the event. After witnessing the video, Dr. Settles felt something different.
"It did something to me. I've seen murders to the African American community; it's not a new story. But something about this one wrecked my heart. George Floyd was just an average guy. He wasn't a Nobel laureate. He wasn't an olympian. He was an average guy."
A Challenge Accepted
Dr. Settles remembers watching the memorial service hosted by Scott Hagan, PhD, President of North Central University in downtown Minneapolis. President Hagan extended an invitation to the country.
"I'm putting a challenge out to all academic institutions," he said. "We have set up a scholarship called the George Floyd Memorial Scholarship. I am now challenging every university president in the United States of America to establish your own George Floyd Memorial Scholarship Fund, so people across this nation can give to the college of their choice…It is time to invest, like never before, in a new generation of young black Americans who are poised and ready to take leadership in our nation."
Settles accepted this challenge She spoke with her husband, William Settles MFA '95, a retired public school music teacher, and they knew they were going to answer the call. The Settles have since set up scholarships in memory of George Floyd at four institutions, including USF.
Right Place, Right Choice
Michal and William Settles met during their undergraduate education and have been married for over 50 years.
Dr. Settles grew up with a grandfather who was a sharecropper, which at that time was a step above slavery. Her grandfather stressed the importance of education, and her mother was the only one of twelve children to get a college degree.
When sharing how they selected institutions to set up scholarships, Dr. Settles knew she wanted an institution where they both had personal ties and that had a love for human life and trying to do the right thing.
Settles remembers her time at USF fondly. She was working as a senior manager in the transportation industry and wanted to continue her education. She needed a local university since she was also caring for her daughter who had autism. Settles enrolled at USF where she found the professors to be outstanding, and she couldn't wait to go to class.
"It was a wonderful and collaborative experience. USF was definitely the right choice."
In Remembrance of George Floyd
In setting up their scholarship, the Settles worked with USF's gift planning team, who suggested various ways they could fund their gift. The Settles and their advisor determined that a qualified charitable distribution from their retirement plan was the tax-wise way to go.
"I'm giving the money to the place we care about. I trust USF, and I'm tickled pink that a student will be able to benefit from this."
The Settles hope this scholarship will commemorate George Floyd, and that students will remember and believe in social justice, stand up where they can, and be willing to do the same for the next George Floyd.
They want to be part of the solution that helps students stay the course and not give up. In this spirit, the George Floyd Social Justice Scholarship will be awarded to students who have the potential to shine.
The Settles want the scholarship recipients to know that "someone is thinking of you and is proud of you, and if this helps you get over the mark, well then that's a good thing."
---
Join the Settles family in supporting their scholarship in memory of George Floyd.
GIVE TO THE GEORGE FLOYD SOCIAL JUSTICE SCHOLARSHIP FUND