Alumni
Recognizing Opportunities For Change Within Ourselves
Five Questions With S. Priana Aquino '22, Communications Assistant for the Leo T. McCarthy Center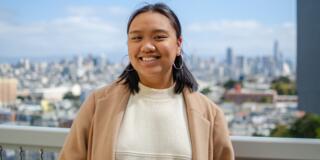 Over the course of the past year, USF students have strengthened their resilience as a community and continued to advance toward their individual goals. Among the university's sea of ambitious students, S. Priana Aquino '22 has taken advantage of her new virtual setting and seized several opportunities as an Honors College student, a communications assistant for the Leo T. McCarthy Center, the vice president of the Residence Hall Association, and the Judicial for the USF Panhellenic Association, and co-founder of USF's Aurum Beauty club. For Aquino, there's no better time to Change the World than now.
What Does "Changing the World From Here" mean to you?
While sheltering in place, I realized that "Changing the World From Here" has a new meaning. At the beginning of the pandemic, I personally felt like I had reached a standstill in terms of being able to challenge myself and to continue to help others. However, I have come to understand this period as an opportunity for growth. A single place doesn't dictate our ability to change the world, but change starts within each of us. In a time of separation, USF's motto serves as both a call to action and a reminder to students that change does not happen overnight. It is in the smaller things — the biases we challenge, the conversations we have, the acts of kindness we do for each other — that we come to fully understand the change our world needs. We are still connected by our motivations to learn, and these small steps will allow us to become the leaders that enable these changes to take place.
Who is someone you know within the USF community who is "Changing the World From Here" and how?
Through my work at the Leo T. McCarthy Center, I have gotten to know more about their programs and the students who participate in them. Every single student embodies our motto, from our McCarthy Fellows to our USFVotes leaders. They are passionate about serving others and are driven to create change. These students remind me that equity for all underrepresented and marginalized communities continues to be one of the most important political issues, and I have a responsibility to bring attention to it. I am inspired by all of their stories and am honored to uplift the important public service work they are doing. 
What inspired you to pursue a major in Business Management and a minor in Legal Studies?
Upon graduation, I hope to go to law school with a concentration in public interest law. The business classes I have taken at USF have prepared me with the organizational tools and critical analysis skills that are necessary for this profession. Both my legal studies classes and courses I have taken as an Honors College student have also aided in my understanding of the Jesuit values that USF instills in their students. My degree has led me to find my passion for social justice and will serve as a foundation for my future career.
What have been some of your most memorable experiences at USF?
While working from home has been difficult, I am grateful for the opportunity to continue participating in campus activities online. I am currently planning for student life in our dorms this Fall overseeing the three sororities we have on campus. Getting to see and chat with my sorority sisters and executive board members has definitely gotten me through this last year. 
Recently, I also helped to start a new club, Aurum Beauty. It is the first of its kind on campus, focusing on building community and strengthening leadership skills through the lens of the beauty industry. Being able to start Aurum with four of my close friends has been a great way to apply creative thinking to business-related topics. Any connectivity I get through USF organizations and clubs validates the hard work I am putting in now, and reminds me of all the memories we will make when we are back on campus soon.
What makes you proud to be a USF Don?
I am incredibly lucky to have met friends who helped me grow as both a team member and a leader. I am proud knowing that I will graduate alongside them and that they will always be fellow Dons. When I first came to college, I was unsure of what I wanted to do. USF has allowed me to explore my different strengths and led me to a career that I am excited to pursue. I am proud to represent the values that USF stands for and thankful for the incredible experiences that being a Don has given me.
To support students like Aquino, consider making a gift in support of the Leo T. McCarthy Center, The School of Management, and Changing the World From Here: Campaign for the University of San Francisco.