Equipped to Lead and Succeed
Putting Filipino Food on NYC Map
Women's History Month
USF women are leading and succeeding in diverse industries, including many that remain dominated by men. Here, in honor of Women's History Month, we present a series of profiles of exceptional, inspirational women who are making their mark in fields from computer science to stand-up comedy.
New York City restaurateur Nicole Ponseca '98 is an unlikely success story in an industry that remains an old boys' club, and in which few businesses survive.
Raves from The New York Times
Ponseca co-owns two popular Filipino restaurants—among the few in New York. She's received glowing reviews in the New York Times and was featured on ABC's The Chew. 
But Ponseca didn't stumble on her dream until after she landed what she thought was her dream job. One year out of college, Ponseca, who majored in business administration at USF, got a job at a major ad agency in New York. She was living the life she had long pictured—rubbing elbows with major clients and dining in the city's best restaurants. When clients asked Ponseca, a Filipina-American, to take them to a Filipino restaurant, she was at a loss. In a city that is home to one of the largest Filipino communities in the U.S., she had nowhere to take them.
'No one was doing it'
It was then that Ponseca saw an opportunity. She was incredibly proud of the dishes that had nourished her growing up and believed that New Yorkers would embrace them too. But she also knew that without preparation, her odds of failure were high. In New York, 80 percent of new restaurants fail within the first five years. The city's restaurant industry is also by and large an old boys' network, with more than two-thirds of all top-tier, front-of-the-house positions held by men, according to the Restaurant Opportunities Center of New York.
"No one was doing it, and I knew that I could and would," says Ponseca. "But I knew from my classes at USF about the profitability and the risk involved, and I wanted to mitigate that risk."
Ad exec by day, dishwasher by night
And so she kept her day job. For a decade, she was an ad executive by day and a dishwasher, hostess, and waitress by night—anything to learn the ropes of the restaurant industry.
"It was tough. Last call at some of these places was 3:30 a.m. My bosses at the ad agency never knew. I didn't want them to feel that I couldn't handle it."
To learn the cuisine, she spent months backpacking through the Philippines. To test recipes, she threw Saturday afternoon tastings at her apartment.
But after years of trying, her dream of opening a restaurant was still just out of reach. No one would invest in her. Most people had no idea what Filipino food was. And it's notoriously difficult for female entrepreneurs to secure capital; women-led businesses receive just 4.2 percent of all venture capital funding, according to Stanford University's Clayman Institute for Gender Research. 
The early days were bumpy
Impatient, Ponseca decided to rent space from another restaurant and open for one lunch shift a week.
Those early days were nerve-racking and bumpy. Few showed up, and service was slow.
"There were customers that waited two hours for their food. My heart was in my stomach, and I was so embarrassed," she says. "But then they would come back. It was amazing."
Thanks to word-of-mouth publicity and a small write-up in New York magazine, within a month, they had a 3-4 week wait for a table.
Is San Francisco next?
Ponseca now owns two restaurants—Maharlika (which means 'nobility' in Tagalog, the Philippines' official language) and Jeepney (named for U.S. military jeeps from World War II used as public transportation in the Philippines). Diners enjoy a modern take on traditional Filipino dishes and also get a taste of the archipelago's culture, including a Tagalog word of the day.
Next, Ponseca is setting her sights on San Francisco, where she hopes to open her next restaurant.
"It would be so good to come back home," she says.
Know someone with a powerful USF story? Let us know! usfnews@usfca.edu | Twitter @usfcanews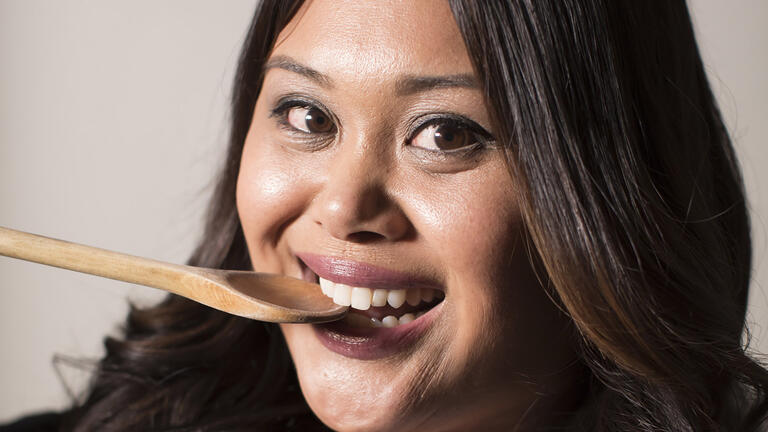 Nicole Ponseca '98 wasn't happy with the conversation, so she decided to change the conversation.