Passion for Justice
Professor Michael D. Collins Steps into the Role of Interim Department Chair of Hospitality Management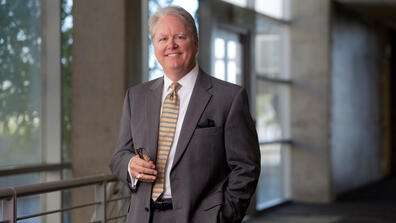 Michael D. Collins, Ph.D., joined USF in fall 2013, bringing a wealth of hospitality management experience, current research, and a devotion to student success. Prior to his career in academia, Collins was a General Manager for some of the country's premier hotel operators, including Wyndham International and Hyatt Hotels Corporation, where he served a portion of his tenure in San Francisco at the Hyatt Regency in the Embarcadero Center. His current research is focused on hospitality revenue management and the electronic distribution and pricing of hotel accommodations.
In the following Q&A, Dr. Collins shares his experience and goals as Interim Department Chair.
Gina Alvarez (GA): Why did you choose to serve in this capacity? What are your motives for accepting the position?
When the Department Chair position was vacated, we met as a department and discussed the importance of someone stepping into this role who was prepared to continue the positive momentum and current direction of the Department of Hospitality Management (HM). My colleagues and I wanted to remain focused and we did not want to see the department take a step backward.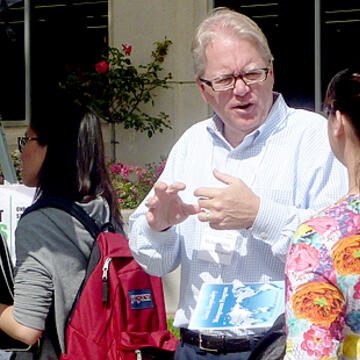 Consequently, it was important that we selected a leader that was already a part of the faculty – someone that is part of the positive change that was already underway – as opposed to bringing someone from the outside who would have to go through a substantial learning process. To re-evaluate our current goals, departmental priorities, our program's curriculum, etc., all over again, seemed unnecessary and would slow down our positive momentum.
HM is moving in a very positive direction and amazing things are happening! I stepped into the role of Interim Chair because I want to continue on this trajectory, help the department move forward, and spearhead the implementation of the many good ideas we have planned for the next several years. I appreciate my colleagues' show of support by electing me to serve in this capacity.
GA: What is your past experience in administration?
I left the hotel industry in 2003 (after 25 years) and embarked on what I call my second career in higher education. I completed my Ph.D. in Hospitality Management at The Ohio State University. I then went to Coastal Carolina University, where I was a faculty member for eight (8) years and served as Assistant Dean during my final two years in the Wall College of Business Administration at Coastal Carolina.
In my administrative capacity at Coastal Carolina University, my team and I were responsible for overseeing all professional internships in the College of Business. We also provided academic advising and delivered a wide-range of professional development activities for the 2,200 students enrolled in the College of Business Administration. These activities included assisting students in improving their time management and presentation skills, writing their resumes, conducting a search for internship and post-graduation career opportunities, and preparing for job interviews.
While working in the industry, I served in General Management capacities at Hyatt Hotels in Atlanta, San Francisco, and Chicago. With Wyndham International, I managed hotels in Salt Lake City, Palm Springs, Los Angeles, West Hollywood, and Myrtle Beach. I was blessed with the opportunity to manage a wide-variety of hotel properties from a small, 161-room boutique hotel in Chicago's Loop, with just over 100 employees, to the large, group-oriented, 800-room Hyatt Regency in San Francisco, with nearly 700 associates. I have worked in urban, airport, suburban, and resort markets in both union and non-union environments managing operations with annual revenues from just over $5 million to over $50 million. I also served as Vice President and General Manager at Glade Springs Resort where, in addition to being responsible for the lodging and conference center operation, I also managed a championship golf course, spa and racquet club, equestrian center, security staff, and the road maintenance throughout this 2,000-acre residential resort community in Southern West Virginia.
This wealth of industry experience, I feel, really benefits me in the classroom and allows me to assist students as they contemplate various career options.
GA: What is the role of a Chair in the new School of Management structure with a new Dean?
An academic environment is not like the business world, and having spent 25 years in the hotel industry, that was a big adjustment for me. When I was a hotel General Manager, I was ultimately held accountable for producing positive business outcomes. Therefore, my responsibility was to make decisions that were in the best interest of the hotel - its employees, investors, and the brand. My management team was comprised of trusted advisors, but ultimately, it was my responsibility to make the final decision, particularly if my management team was in disagreement on the best course of action.
A university is, technically speaking, run by its faculty. So, decisions must be supported by the faculty, or they will not be implemented. A Department Chair is, first and foremost, a member of the faculty. They get one vote, just like everyone else, relative to setting the department's agenda.
Consequently, the role of Department Chair is more of a facilitator's role; to facilitate the success of the department, not necessarily to set the agenda, but to facilitate its execution. I see my role as someone who will encourage the full participation of the faculty; help facilitate conversation and the understanding of everyone's ideas; and to represent the interests of the Hospitality Management department as a member of the Dean's leadership team.
Department Chairs are elected by the respective department's faculty, but serve at the pleasure of the Dean. As a result, a Chair must ensure that the department level agenda supports the Dean's vision for the School of Management as a whole.
GA: How do you assess the current make-up of the Hospitality Management faculty?
HM has a perfect balance of long and short term players.
Associate Director, K.O. Odsather, and Executive Chef, Jean-Marc Fullsack, will keep us from marching off too quickly in a direction we may not be ready for. Their history, track record of performance, solid relationships with our alumni, connections with the industry, and knowledge of where the department has been and what it has accomplished over the years, is invaluable and will contribute to our continued success.
On the flip side of the coin, we have some new faculty members, including Associate Professor Thomas Maier and myself, who bring fresh ideas and new perspectives.
And, Assistant Professor Michelle Millar is the longest serving scholarly academic in the department, who also has great industry experience. I see Michelle as a mediator and a voice-of-reason between our connections with the past and our desire for an innovative, "out-of-the-box" approach.
We have a really well-balanced department and everyone has significant industry experience. My goal is to take full advantage of this dynamic.
GA: How will the three pillars of HM continue to be a part of the positioning of the department?
The positioning of the department is in place. We have established a market position as the 'premier boutique hospitality management program' with three (3) pillars of excellence - global meetings and events, eco and ethos, and well-being and quality of life. Our three pillars are alive and well.
Though we will preserve the three pillars, we are excited by new opportunities. For example, we have plans to launch a graduate program. We plan to take full advantage of our geographic location - an area of the country known for innovation, technology, exceptional gastronomy, wine, cultural diversity, and as the gateway to the Pacific Rim. There are so many advantages to being in San Francisco! I've worked from coast-to-coast in the hotel industry and I could say it does not get better than this city. There is absolutely no market in the U.S. better than San Francisco when it comes to a global, top-tier hospitality community.
At the University of San Francisco, we have a unique opportunity to be an integral part of that community. We want to make certain our Department is also a top-shelf, world-class organization, just like the industry we serve!