Giving
Philanthropy and Friendship
Kevin Leong '70 and Mike Monroe '70 partner to donate the former Sigma Alpha Epsilon house to USF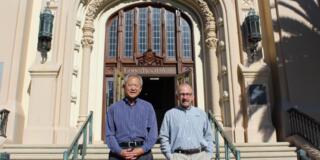 USF has two alumni fraternity brothers to thank for donating a property that will benefit generations to come. Kevin Leong '70 and Mike Monroe '70 worked in partnership to facilitate the donation of the former Sigma Alpha Epsilon house to USF. They fostered the gift as a labor of love, in honor of over 400 alumni brothers. 
The property at 1970 Fulton Street formerly housed members of the Sigma Alpha Epsilon (SAE) fraternity, and in recent years, was rented out to current USF students. The house was gifted to USF in 2021.
"This property gift will increase USF's footprint for strategic use in the future, and I am grateful for this terrific gift and for the many ways Kevin and Mike have given back to their alma mater," said USF President Paul J. Fitzgerald, S.J.
Although the fraternity no longer has a presence at USF, the legacy of community and companionship will continue to make an impact on future Dons.
Dons for Life
Leong and Monroe enrolled at USF at the same time and went through rush together in 1968.
"I came to USF with a suitcase and a typewriter," said Leong. Monroe added, "We had bedcheck at 11 p.m. We had a priest on every floor."
During this very different time on campus, the two young men forged a lasting friendship that would carry them through careers, families, and toward lives of service giving back to their alma mater.
The donation of this unique property required a lot of attention to legal and financial detail, which Leong and Monroe managed as volunteers. Although they acknowledge the work and effort that went into the complicated manner of the gift, they are quick to share the credit with their fraternity brothers.
"The former SAE members who lived in the house are gratified to know that this was done with them in mind," said Monroe. "This will continue the legacy of the California Sigma chapter of Sigma Alpha Epsilon at USF."
A Legacy of Giving Back
Since their graduation in 1970, Leong and Monroe have set the standard in alumni engagement and connection with their alma mater.
Leong has worn many hats as a volunteer and an employee at USF. He worked in the Office of Alumni Engagement for sixteen years and has served in support of Golden Reunion planning, the Alumni Awards Committee, the Athletics Hall of Fame Committee, and the Asia Pacific Alumni Network. Although Kevin retired from USF in January of 2022, he and his wife Cathy will continue to be a steady presence on campus at basketball games and alumni events.
With a service pedigree of his own, Monroe has also been a lifelong volunteer for USF. Among his many roles, he has served as president of the Alumni Board of Directors and president of the local chapter of Sigma Alpha Epsilon. He met his wife, Eva, while they were USF students. Eva has also served in a variety of volunteer positions, including chair of the Women in Leadership & Philanthropy Advisory Board, and as a Trustee Emerita.
Both alumni are members of the Fr. John Lo Schiavo Legacy Society, which means that they have included USF in their estate plans.
"We hope to inspire others with our philanthropy to our alma mater," said Leong. "USF is near and dear to us. SAE got us started and got us together."
This gift was made as part of Changing the World From Here: Campaign for the University of San Francisco. To learn more about legacy giving please contact giftplanning@usfca.edu or call (415) 422-4163.