Organizers in Action
From the classroom to the field, USF students learn the ins and outs of activism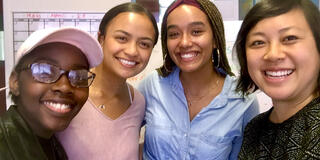 Celi Tamayo-Lee, field organizer at San Francisco Rising, has a long-term vision for unity in San Francisco and enjoys seeing USF students take their education to the streets.
Describe how you integrate USF students into the work of your organization.
We're organizers. We work with immigrants, working-class people, and people of color to build up collective consciousness and political power in San Francisco. USF students spend hours each week working directly in the field. They call young San Franciscans and survey them on issues that affect them most. They gather petition signatures and conduct presentations for measures like universal free tuition in California's public state university system. They call City College union faculty to spread the word about the campaign. They table on campus to register their peers to vote locally. They organize. Whether it's  increasing access to higher education or increasing the electorate of young people of color, USF students' time and energy multiplies our organizational reach and creates action-oriented change.
Image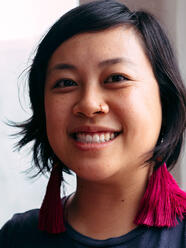 What social justice issues do students learn about through working with your organization?
The Esther Madriz Diversity Scholars program combines theory and practice. Students learn how to become organizers and put their education into action. Understanding the importance of registering their peers to vote, learning that millennials make up one-third of California's population and 7 out of 10 of them are people of color, these issues frame the potential for political power through grassroots organizing, especially among students.
I had the pleasure of co-leading a workshop on gentrification in San Francisco. Students in the workshop were placed at several grassroots organizations in the city and tasked with tracing the roots of gentrification back to the foundations of this country and everything in between. Students critically discussed the larger systems of inequality that lead to gentrification. Redevelopment in the Western Addition and Fillmore neighborhoods, for instance, made these issues more personal as these are USF's adjacent neighborhoods.
In what ways do help students learn about your organization, the people you serve, and broader social justice issues?
Organizing is a process of learning by doing — the organizing processes can remind you how perfect and imperfect human behavior can be. I train students on petition gathering and how to agitate their peers and educate them on grassroots legislative issues. And at the same time, their own stories and connections to the community put these skills and histories into meaningful contexts. Setting up environments for reflection, role-play and working together also happens through this work.
Describe a particularly successful community-engaged learning collaboration you've had.
The greatest success we've had is our collaboration with the EMDS program and student work on the College For All campaign. After learning about the campaign and how to collect petition signatures, students set up a regular weekly table on campus to register other students to vote and collect signatures to make college tuition free at California state public university systems. We learned through feedback that EMDS interns were surprised at how easy it was to get people to sign the petition once they got over their initial anxiety of approaching others.
What do you think makes community-engaged course collaborations successful?
What makes the community-engaged course collaboration successful is the relationship between the organization and the program — the ability to sync classroom curriculum with lived experiences and community work. This is particularly important for organizing which is oftentimes romanticized. In actuality organizing involves a lot of data entry, bothering strangers, and following up with people over email and phone. It also involves a lot of personal, internal, and emotional work so organizers can work effectively and meaningfully with others. It is these repetitive tasks combined with deep care and detail that allow our teams to go out on the streets, stay informed, vote, and maintain relationships with each other.
What are your hopes and expectations for how USF can enhance community-engaged partnerships with your organization and others in the future?
I am very excited that San Francisco Rising will be collaborating with the McCarthy Center again next year. We'll be hosting a Community Empowerment Activist through a pilot program. The fact that students are paid to spend eight hours a week participating in organizational work is a win-win situation for the organization and students. I am excited to continue working with USF students to create change in San Francisco.