Alumni
One Woman's Journey to Support Young People
Antoinette Malveaux '81 had a successful career in banking and non-profit executive management and her strategic planning and management skills had already won her national and international clients. But she was tired.
She took a break and headed to the U.K. and Italy, with a biography of St. Francis of Assisi tucked in her bag. Then, she practiced something she had learned in her favorite class at USF: writing and journaling as a way to find answers.
Two months later, she returned home renewed in what had become her life's mission: Helping others, especially young people. Like St. Francis — and her hero, Pope Francis — compassion is what drives Antoinette Malveaux.
Today, she is the managing director of Casey Family Programs, a national non-profit foundation headquartered in Seattle that provides and improves foster care.
She is also a generous donor to USF, giving to University Ministry in support of the Jesuit mission, and to the Leo T. McCarthy Center for Public Service and the Common Good, which oversees the university-wide commitment to the Western Addition neighborhood where she grew up. Her service to USF includes serving on the Board of Trustees for nine years (she is now a trustee emeritae) and as a member of the McCarthy Center board for two years.
Antoinette credits the university with preparing her well for life, and she is a member of the Fr. John Lo Schiavo Legacy Society, which honors alumni, parents, and friends who have included USF in their estate plans.
Leading with Compassion
She gives so that USF can do what she believes it does best: Educate the hearts and minds of students today in the Jesuit tradition.
"I think that as a Jesuit Catholic university, we are challenged to find a space in the minds and hearts of young people," she says. And, she believes, it is more important than ever to educate students who can lead with compassion and integrate compassion into their careers.
Education was a foundation in the Malveaux family. Paul, her father, graduated from USF in 1952 with a mathematics degree. He later earned his teaching certificate and master's in education here. Her mother returned to school when Antoinette was 13, getting her graduate degree in social work from UC Berkeley.
After graduating from USF with an economics degree, Antoinette earned her MBA from Wharton at the University of Pennsylvania. Her sisters also attended Jesuit universities and also went on to post-graduate degrees at MIT, Wharton, UC Hastings Law, and John F. Kennedy University. Their brother is a successful contractor with an education from Cal State Hayward.
Antoinette worked for Bank of America as a USF student and was hired full-time after graduation. After receiving her MBA, she went to American Express, working in strategic planning for the international banking division for many years. From there, she became president and CEO of the National Black MBA Association in Chicago.
Creating a Vision
More than a decade ago, Antoinette experienced what she calls her "spiritual sojourn," the journey that helped her renew her passion for finding solutions that help others. At Casey Family Programs, for example, the goal is to reduce the number of youth in foster care by 50 percent by the year 2020.
It's exactly the kind of ambitious goal that Antoinette has a passion for.
"It's creating the vision that moves me," she says. "I like to make visions come to life."
Antoinette credits her parents with teaching her and her siblings the most important lesson of all — the responsibility to help others.
"It was always, 'Show up,' " she says. "And, show up with compassion and integrity.' "
Discover a simple and powerful way to leave your legacy. Learn more
This gift was made in support of Changing the World from Here: Campaign for the University of San Francisco.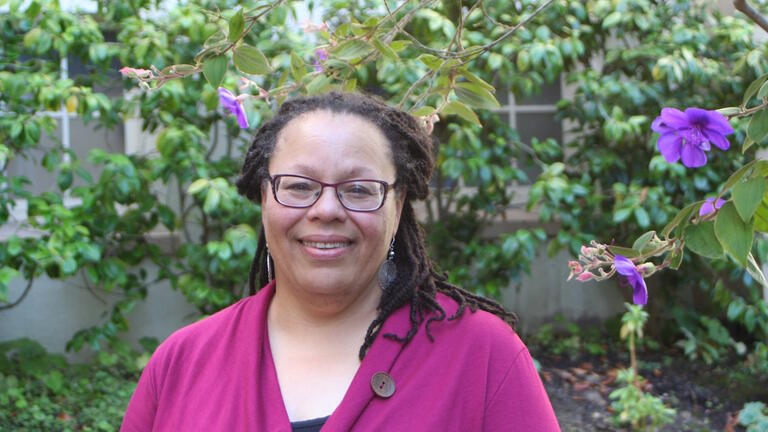 Antoinette Malveaux '81 gives so that USF can do what it does best: Educate the hearts and minds of its students.