Passion for Justice
Nonviolence Now
In a talk at the Commonwealth Club, USF panelists call for action against injustice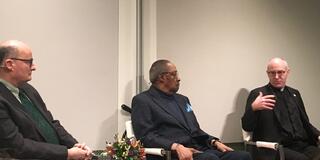 To address the racism and inequity we see in the world today, people of all faiths and no faith must embrace the nonviolent protest that Martin Luther King Jr. practiced more than 50 years ago.
This was the message delivered by three USF educators Feb. 6 at the Commonwealth Club during a panel discussion called "Nonviolence: The Fierce Urgency of Now."
Nonviolent protest is a "kind of spiritual warfare.... It gives us the strength to not only imagine justice and imagine peace but to enact it," said USF President Paul J. Fitzgerald, S.J.
Clarence Jones, a lawyer and speechwriter for King in the 1960s, and Jonathan Greenberg, co-founder with Jones of the Institute for Nonviolence and Social Justice at USF, joined Fr. Fitzgerald for the discussion.
King's success lay in his ability to show that civil rights supporters were not "just a bunch of violent troublemakers," Jones said.
"He was willing to kneel down and pray in front of segregationists," said Jones, who added that King's belief was that "you care enough about them to confront them."
Today may be the largest wave of nonviolent protests in history — in Hong Kong, Sudan, Bolivia, Chile, Lebanon, Argentina, and Ecuador, said Greenberg. Greta Thunberg's mass climate strikes involving students show that nonviolence is being practiced worldwide.
"This is the time to understand, and if you're moved, to participate," Greenberg said of the movement for peaceful protest.
Veronica Shepard, who attended the discussion, is part of a coalition of African American churches in San Francisco, and she pointed out that the median income of black people in the city today is about a quarter of the overall median income of $96,265.
"We are still living this dehumanized experience every day," she said.
What can be done? Shepard asked the panel from USF.
"People need to use the power and vote," said Jones. "The most effective way of bringing about fundamental change comes from having the right to vote and exercising the vote."
And building partnerships can help address inequity, said Fr. Fitzgerald, who said USF wants to partner with groups like Shepard's to bring about equity and end poverty and homelessness in San Francisco.
"People sleeping in the streets, can't find a home, and yet you have all this wealth — that is immoral, and we've got to fix this," the president said.
"It's important to come together and raise your voice about the injustices you see," he added. "This is what we do at the University of San Francisco. We want to ruin our students so that when they graduate they're going to be permanently dissatisfied with the status quo."
Listen to a Commonwealth Club broadcast of the panel discussion