Ninth-Annual Women in Leadership & Philanthropy Symposium Drives Big Dreams
Women in Leadership & Philanthropy Symposium: Discover, Lead, Elevate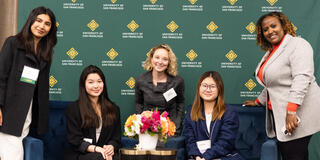 With nearly 200 registrants, the Women in Leadership & Philanthropy Spring Symposium was in full bloom on Thursday, March 23.
The ninth-annual symposium was held at Hotel Nikko in downtown San Francisco and this year's theme encouraged attendees to Discover their potential, Lead with passion, and Elevate the next generation.
The luncheon started off with emcee Silvana Bacigalupo MSOD '21, Women in Leadership & Philanthropy Board member, welcoming the group and with Ellen Kelly, director of career success, leading the blessing. Through the meal, the attendees heard personal testimonials from Bacigalupo and Elle Fersan '23, Women in Leadership & Philanthropy Board grad student, on their journeys as first in the family, sometimes the only people of color in the room, and how their values drive them as champions for social justice and gender equity.
The keynote speaker Hannah Gordon, J.D. Chief Legal and Administrative Officer of the San Francisco 49ers took the stage later into the luncheon and empowered attendees with paired affirmations, and shared practical tips on owning your story and designing your personal playbook for life success.
"I want to dare you to make your vision big and bold," asserted Hannah Gordon, J.D. "What would you do if you weren't too broke, tired, old, etc.? These are our limiting thoughts that keep us from our vision. What's it going to feel like when you achieve your vision?"
After Gordon's motivational and empowering keynote, the symposium attendees split into three different workshops: Women Leaders: A Positive Force for Change From the Fields to Politics, How History Informs Tomorrow's Leaders — A Student's Perspective, and Leading with a Transformational Mindset — Transforming Your Beliefs Around Money and Yourself.
The symposium ended with Netta Jenkins, CEO, Aerodei, in conversation with Emille Lawrence, senior director for the Black Achievement Success and Engagement initiative and associate professor at USF. The two discussed the challenges of living up to the high expectations of immigrant parents, the workplace policies that are holding them back from modernizing, and the significance of mentoring and advocating with other women.
"We're so used to doing it alone. When you're ready to advocate, advocate with another person," said Jenkins. "Find a community of women that you trust, so you can amplify your voices together."
As the afternoon wrapped up, friendly camaraderie turned into conversations paired with pink drinks. The director of Women in Leadership & Philanthropy, Cheryl Vargas reflected, "I was moved by the activities in discovering our beliefs around money and hearing the power of the student voice. But most importantly I learned that dreams come true, that doors will open and that someone will be there to catch us and to lift us up."