Alumni
Building Pathways for the Next Generation of Female Leaders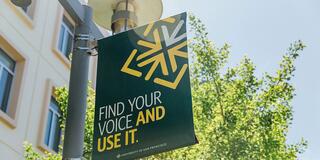 Founded in 2011, the University of San Francisco's Women in Leadership & Philanthropy initiative aims to provide an inclusive space for alumnae, students, and friends of the university to engage with USF and one another.
In addition to hosting an annual spring symposium, the group invites a student representative to join the Women in Leadership & Philanthropy Board of Directors for one academic year. A more recent initiative of the organization, the Board, who are all alumnae of the university, wanted to provide an immersive and formative experience for female student leaders on campus to explore philanthropy and grow professionally.
"We realized we needed a pulse on what students were thinking and what their interests are in volunteer life, and hopefully philanthropy," explained Eva Monroe '72, board emerita. "Student representatives broaden our reach and vision by including the voices and opinions of current students at USF. We aim to show them what they could be and aspire to."
Student representatives are selected through a nomination process whereby a committee of Board members reviews the list of students provided by Shirley McGuire, USF senior vice provost of academic affairs. The Board then votes on the decision presented by the committee. Since the process began two student representatives have served on the board, Kiran Kaur '20, and Sascha Rosemond '15, MNA'19.
Amplifying Voices and Opportunities
Monroe, who served on the Women in Leadership & Philanthropy Board for nine years beginning at the initiative's inception, explained that the addition of student representatives provides a platform to amplify student voices on campus and also gives the Women in Leadership & Philanthropy initiative the opportunity to nurture the advancement of philanthropic giving of alumna, identify future leaders, and support the strategic initiatives of the university. In turn, the student representatives offer insight into how the university initiative can further promote diversity and inclusion on campus while also solving issues students face every day.
"As a student representative, I aimed to open up conversations for what the current student life is experiencing and to share issues students are looking to solve," explained Kaur.
Beyond offering student representatives an immersive first-hand experience interacting with a board of directors, the experience provides the students access to a wide network of strong professionals from a variety of industries and women who exude the university's commitment to being people for others.
"I was drawn to the organization because of the great mentors I had at USF when I was an undergraduate student. As a graduate student, I wanted to stay connected and to participate in something that I believe is very important — the empowerment of women at USF on campus and in the community," said Rosemond. "Having a strong network of female entrepreneurs in your circle is important. It gives you a common ground. You support and show up for one another."
The individual connections between the student representatives and the Board members have proven to extend beyond the confines of the meeting room and a student's time at USF. The lessons learned from mentors in the network even transcend professional life and have helped the student representatives identify their strengths, whether that be public speaking or campus outreach, and grow into the next generation of strong female leaders.
"Personal relationships with women in the community help me feel empowered," said Kaur. "They noticed strengths in me that I didn't even realize I had and sometimes strengths that I didn't actually see as strengths. I want that support in my career but I also want to come back to USF and continue to help others find that too."
Transforming from Students to Leaders
Now that her time on the board has come to a close, Kaur looks toward the future. She hopes that she can take the lessons learned to lead and go forth to serve others by establishing her own media company founded on the principles she learned while working with Women in Leadership & Philanthropy and at USF. Her first step to meeting that milestone is to launch her podcast, 9T8 Podcast.
"My goal with this platform is to inspire the next generation of women to start thinking about leadership and philanthropy," said Kaur.
Since serving as a student representative, Rosemond has not only made a career for herself in the nonprofit world but has also joined the board as a regular member. As a testament to the inclusion of the student representatives, Rosemond notes that her experience with Women in Leadership & Philanthropy post-graduation has not changed much. In fact, she felt like a regular member of the board even as a student.
Looking back, Rosemond's most impressionable lesson from her time as a student representative harkens back to the value of an authentic community of women who support other women:
"The women of Women in Leadership & Philanthropy taught me the importance of showing up as myself and being authentic to my opinion and values. Being able to voice what I think and be upfront about my values and my needs in a space where I might be the only woman of color or the youngest voice in the room."
To support Women in Leadership & Philanthropy as the initiative continues to advance diversity and inclusion for all female students and USF community members, contact Cheryl Vargas at (415) 422-2063 or cvargas1@usfca.edu, or make a gift to Changing the World From Here: Campaign for the University of San Francisco.