Campus Life
New Sustainability Coordinator Sets Eyes on Carbon Neutrality by 2050
How to be a Sustainability Champion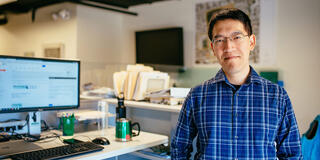 As California trudges through its fourth year of drought, visitors to USF may have noticed swathes of brown and gold on Hilltop Campus lawns. That's because the university has curbed its water use, including cutting 25 percent in irrigation last year.
It's only one step in creating a more environmentally friendly university. In August, USF's brand new Office of Sustainability hired sustainability coordinator Richard Hsu to lead the campus to a greener future — including a goal of carbon neutrality by 2050.
Before getting there, Hsu, who holds an MS in environmental management from USF and a bachelor's degree in environmental systems from the University of California, San Diego, is also challenged with reducing the university's greenhouse gas emissions 20 percent by 2018, from a 2013 benchmark.
"We can achieve that by reducing our energy and water use, improving participation in campus recycling and composting, and encouraging commuters who drive alone to campus to switch to more fulfilling travel options," Hsu says.
Asking USFers to pitch in
One of Hsu's biggest tasks for the next semester will be completing a USF sustainability plan that details strategies for reaching these goals and others. Hsu also plans on implementing some small changes, like piloting the use of devices that would reduce electricity use by idle machines like computers, and increasing the number of bike racks, composting bins, and recycling bins on campus. Right now, he says, there are too many landfill bins on campus and not enough for recycling.
Hsu was formerly the sustainability coordinator at Skyline College in San Bruno, where he led the implementation of the college's sustainability plan and won the California Community Colleges Board of Governors Energy and Sustainability Award for Faculty/Student Initiatives in 2015.
It could be challenging to show students — especially those who come from areas unaffected by drought — the value of recycling, composting, and conserving water, Hsu says. He asks USFers to help out by reducing shower times, shutting off the faucet while shaving or brushing teeth, and reporting water leaks.
"Sustainability starts with individual action," he says. "Do your part, become a sustainability champion, and engage your peers to follow your lead. You may be surprised by how convincing and effective you can be."
Know someone with a powerful USF story? Let us know! usfnews@usfca.edu | Twitter @usfcanews