Giving
Crossing Into a New Normal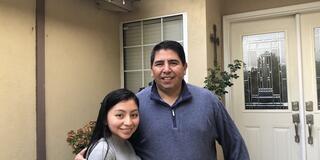 I booked my bus ticket on a sleepless night long before midterms started. My friend, Zuri Vera '23, and I settled into the Lone Mountain library and stressed over a paper due for our ethics class. Distracted and tired, she suggested we take the same trip home for spring break. Since promotional deals on bus tickets had flooded my email for weeks, I agreed. We quickly arranged our schedules and expected to leave midnight on Saturday, March 7.
For months, the brewing health crisis started to strike fear in students all around campus. With few confirmed cases of COVID-19 reported in the US at that point, government officials and university administrators already warned against worldwide travel. Still, our families hoped that getting to Southern California would be no trouble.
Like most students after exams, I couldn't wait to go home. In the days leading up to my trip, I watched students eagerly load their carry-on bags into the elevator. A majority of residents headed home early for the break while others planned to take club affiliated trips to destinations all around the world. Many wrapped up their last classes that Friday and said goodbye to friends.
Zuri excitedly updated me on the number of days left in the first half of the spring semester. By the penultimate text that I received from her that week, I had begun to pack early, which is something I rarely do. I stuffed enough clothes for a week and my laptop into a duffle bag. I never anticipated having to pack up the rest of my dorm room in as little as a week from then.
As we boarded the bus we noted how many passengers wore surgical masks and latex gloves. What I had originally ruled out as mass paranoia, now seemed more real than ever. The notifications I received in the days to come would confirm this.
Breaking Away From Routine
Almost every morning during the break, I woke up to unnerving messages from friends about the uncertainty surrounding university closures throughout the country. Some frantically posted on social media about their fear of possible outbreaks on campus once in-person classes resumed. Concerns from those being housed on campus and international students permitted to return home also arose.
Shortly thereafter, USF President, Fr. Paul Fitzgerald confirmed that the university would join the hundreds of institutions closing their doors for the rest of the semester. Other emails detailed the university's plan to shift to online instruction and the new resident accommodations.
After reading countless updates, I initially thought of how this would affect classes and on-campus jobs. I realized that like students everywhere, I would never see the end to some of my pending assignments and projects. My ethics professor, for example, had planned for us to visit and speak with those incarcerated in the Bay Area. Although several closures now made this impossible, he hoped this would eventually allow us to apply the theoretical aspects of the course outside of the classroom.
Adjusting to New Horizons
I wanted to return to campus as soon as possible to gather what I needed for the shift to online classes. A few days later, before classes started again, my dad and I left for San Francisco at 3 a.m. Thankfully, he took the day off to drive me back to campus. The five-hour ride to the city gave us the opportunity to catch up on a lot that I usually don't get to tell him when I'm away. We gabbed about the movies he had wanted us to see together and the new restaurant that opened up by the house. Being far from home during most of the year made me appreciate moments like these.
When we arrived at Lone Mountain, the deserted campus greeted us. Students with long faces hauled carts full of clothes and furniture out of the building and into their cars. It took two hours to pack up my bedding and clothes, all while being extra careful to avoid touching anything else. Hand sanitizers stationed in the halls allowed parents and students to practice caution while checking out.
The usually boisterous fourth floor of the residence hall felt empty and sullen with only the occasional smile from the remaining residents. With my possessions packed, I remembered being in the same room at the start of my freshman year. At the time, nervous feelings consumed me as I'd never been away from my family for so long. A semester and a half later, I now reminisced about the numerous lessons I've learned and the amazing people I've met. I hoped they would continue to be a part of my college journey in the years to come.
I went back to the front desk where a student checked me out of my room for the last time. My dad helped carry the last of my things into the car and continued to drive another 6 hours on the vacant road. Seeing the city empty for once made me realize how much I would miss living there.
This experience and the time that I've spent at home since continue to help me appreciate the opportunities for growth that I'm given every day. Many families like mine have taken this time to heal and show compassion for those most vulnerable to this crisis. I hope that communities all around the world will reconnect with their loved ones and share their stories with others going through similar struggles. I believe people everywhere find that amidst their hectic daily routines, it's important to practice gratitude for our various blessings.
Support is still needed in many areas as the situation continues to unfold worldwide. So we can continue to support our global USF community, consider giving to the COVID-19 Response Fund »
For more information and the latest updates from USF, please check the university's COVID-19 resource page