Giving
More Than One Way to Teach, More Than One Way to Learn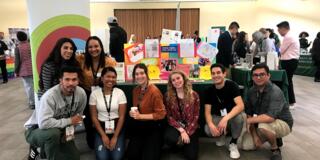 The University Ministry Tutoring Program at the University of San Francisco is revealing how the right approach to tutoring can completely shift and enhance student learning. Since its inception in 2002, the program has continued to inspire growth and change in the education system and has positively impacted the lives of many students, and it started right in the heart of San Francisco's Mission District. 
For almost 20 years, the program has thrived because of annual donations from a generous family who wishes to remain anonymous. As a result of their philanthropy, the program has grown, allowing students to continue doing what they love and to support and empower the tutees they work with. 
With USF student tutors located at parochial schools such as the Immaculate Conception Academy, St. Anthony, St. Peter, and St. James, strong relationships between USF students and their tutees have developed in communities close to USF's own campus. 
By recognizing that the exchange between teaching and learning occurs both ways — between the student tutors and the tutees — the program is flipping traditional education methods on its head, according to Mauricio Diaz de Leon, the assistant director for immersions, justice and outreach, and Erika Landa Sarmiento MA '20, the tutoring coordinator for university ministry. 
A different way of doing
"It's about thinking outside the box and not solely relying on the traditional teacher-student, leader-follower relationship — no, it's us… It's a community," said Diaz de Leon. 
The tutoring relationships are about much more than solving homework problems. They are about creating real connections and partnerships, humanizing educational experiences, and instilling a more holistic teaching practice that acknowledges what makes each student unique. 
Both Diaz de Leon and Landa Sarmiento participated in tutoring programs as children, so the program's mission sits close to home. Inspired by their experiences, Landa Sarmiento describes the program as a space that is aware of obstacles that students may face both in and out of the classroom. 
"Our training has been much more focused on being culturally competent in the communities that we are going to," Landa Sarmiento stated. "It's one of the biggest things for me, as a person of color, to ensure that the students are looking beyond school gates and classroom spaces."  
The two admit that this closely connected approach to teaching has come with some challenges. But through strategic planning, collaboration, and focused tutor training sessions, the group has the skills and experience to overcome the unexpected, and at times, support tutees in other ways beyond their academics. 
"It's a very resilient program. I think that for both the students that we get to work with in the mission and our tutors — they're just full of resilience. Regardless of all the things that might be against them… They just outshine all of it," Landa Sarmiento said.
"Erika and the tutors go above and beyond. It's very inspiring to hear the lead tutors and their opinions, their ideas, their feedback. To then either pivot or change the program — it's very liberating. You can feel it as well when you come in," Diaz de Leon added.
Whether it's writing and singing songs about history with a guitar or navigating how to make a lesson more approachable to a specific student — the tutors make it happen. Reflecting on the memories and accomplishments that their team has made thus far, the two couldn't help but smile.
More than an education
Landa Sarmiento could think of one word to describe the group's bond: Family. 
"We take care of each other. In order for this program to work, we need everything else around [the tutors] to be working and that's something you can't find on a website, you know?" Landa Sarmiento said. "To know that they're going to have that bond and that support, unconditionally, from both Mauricio and I — it's the greatest thing." 
The relationship between University Ministry and the tutors inspired many of the students involved with the program to strive towards their own endeavors and to be brave while doing so. 
The program demonstrates how every idea and effort matters and, as Diaz de Leon said, "You don't have to be [on] an education track or teacher track… Anyone can get involved. Everyone can and will contribute." 
To learn more about supporting University Ministry programs, contact um@usfca.edu or call (415) 422-4463.