Engaged Learning
MFA Writers Power Out Pages During All-Day Retreat
At approximately 9:30 in the morning on Saturday, Oct. 3, a group of MFA in Writing students congregated together in a room on Lone Mountain. They ate a free breakfast and chatted as they settled into the room in which they would be spending the next eight hours. Promptly at 10:15 a.m., they sat down to write, separately but together. The first Saturday all-day Writer Retreat of the year had begun.
Occurring twice a term, these retreats are designed to provide MFA students a quiet and supportive space to make progress on their creative projects.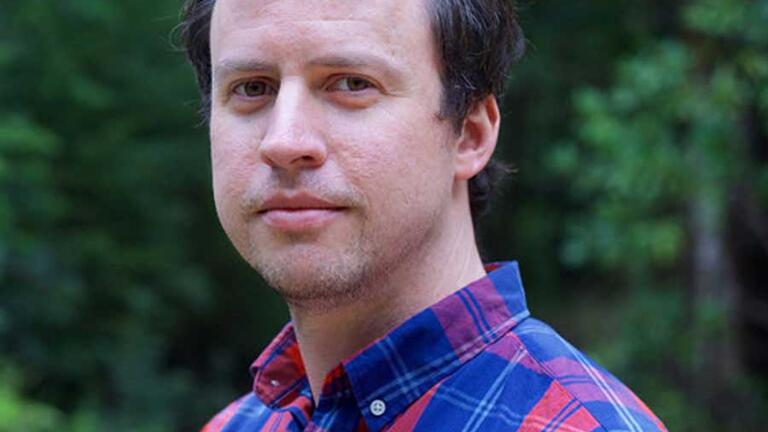 "It's hard to work writing time [into] your day-to-day," Dave Madden, MFA in Writing faculty member and organizer of the student retreat, said. "I know our students live busy lives. I know from talking to them that they wish they had more time to write. We all do. Sometimes we can go a week without writing anything new, and for a writer that can feel kind of painful. So devoting a Saturday to just writing is a way to kind of catch up and alleviate that pain."
The format differs based on which faculty member is leading it, but Madden prefers the method used in separate retreats the College of Arts and Sciences offers its faculty, which consists of working in 45-minute blocks, with 15-minute breaks at the top of each hour and a slightly longer break for lunch. It lets the students plunge deeply into their projects, knowing they won't have any distractions for the next eight hours.
"I wasn't exactly sure what to expect and was a little nervous about having to actually write for such an extended period of time," first-year poet Stan O'Neill ('17) said. "But it was really nothing to worry about, I got a lot of work done. The way it was organized — writing for 45 mins at a time with 15 minute breaks every hour — really helped me not get burned out too quickly."
"Anyone is allowed to write through the break should they feel impelled to do so," Madden said. "But the idea is to get up, step away from the work, chat, text, get some water. Let the brain empty of its focus, refresh, and recharge."
A second-year in fiction, this was  Carrie Sheppard's ('16) third retreat. "I'm a huge fan of these retreats," she said. "I go home exhausted, like I've run a marathon, but, like the 26-mile run, it's coupled with a feeling of accomplishment."
In Sheppard's case, she had a submission due in workshop the following week, and she was able to use the intensiveness of the retreat to prepare for it. "I knew I wanted to get a polished revision of a short story done," she said. "But I also know that I should have another writing project as a plan-b if I hit a wall with the revision. It's an intense day of writing, so you want to give yourself enough freedom to settle into a project that has a good workflow. Luckily for me, I was able to get my short story to a draft I felt good about."
"The great thing about these retreats," Sheppard continued, "is how other people being productive at the tables next to you can make that sentence you're hammering away at feel like an exciting challenge rather than a frustration."
It is just this sense of community the retreats cultivate that inspires her. According to Sheppard, the retreats have been a huge factor in helping her feel a part of the program's community. "The first retreat I ever went to gave me a chance to meet fellow students in other genres, and this time it gave me a chance to meet first-years I didn't know yet."
Plus, the faculty members who run the retreats (usually one per retreat) are participating in the marathon right there alongside the students.
"As student writers, having our professors take time out of their weekend to encourage our writing practice really builds our confidence," Sheppard said. "Our teachers are our writing peers at these retreats, which creates that wonderful balance between inclusion and aspiration."
Of all of the program's sponsored activities, the Saturday Writing Retreat is Eric Mueller's ('16) favorite. A second-year in nonfiction, he has participated in every retreat, twice a term, since the program began hosting them for students last fall.
"Being in a room full of writers working on their writing brings out the athlete in me," Mueller said. "There's something about a shared strenuous experience that not only drives you to push yourself further but also strengthens the bond between the colleagues in the program." 
"We're all in it together, writing our stuff," Madden said. "Sometimes we get that feeling in class together, but the great thing about the Saturday retreats is that you have a poet writing alongside a novelist writing alongside an essayist. You can feel the shared camaraderie, that universal struggle we all go through to make the kind of art we feel impelled to make. And sharing in that struggle helps everyone's art get better."