Passion for Justice
A message from John O'Meara, Director of Strategic Initiatives for the USF School of Management
Image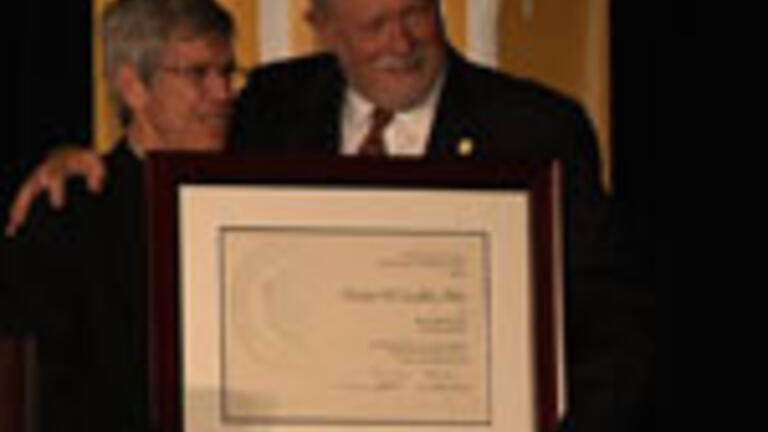 I'm honored to share with you a remarkable development and one that I believe will make a lasting impression on our students and  our University—namely, the presence of Dr. Charles Geschke as the Rev. P. Carlo Rossi, S.J. Entrepreneurial Chair.

Whether you recognize his name or not, Chuck Geschke has most likely touched your life and dramatically changed the way you work, interact and communicate with others around the world  - which is saying a lot for a former college math instructor!

Back in the '70s Chuck and his business partner, John Warnock, were working at Xerox PARC, the seminal research and development incubator in Silicon Valley developing a new graphics language for controlling printers.  Unable to convince Xerox management of the commercial value of this new innovation the two left Xerox to form Adobe, where they evolved and launched PostScript.  This proved to be a major advancement for the burgeoning personal computing industry and helped launch the desktop publishing industry we know today.

Of course Chuck and his colleagues at Adobe didn't stop there.  Over the years Adobe brought to market a series of new and innovative products such as Photoshop, Illustrator, Acrobat and a host of graphic and web tools that have redefined how business gets done around the world!

Today Adobe remains one of the preeminent technology companies on the planet and continues to be led by its Co-Chairmen, Chuck Geschke and John Warnock.  In October of 2009, the two partners were awarded the The National Medal of Technology and Innovation by President Obama at a White House ceremony.

However — long before Chuck was an inventor, entrepreneur and business leader —  he was a student at St. Ignatius High School in Cleveland, Ohio and later graduated from Xavier University, both Jesuit institutions.  According to Chuck, it was this solid Jesuit foundation that was the basis for much of his future success.  

Today, we are fortunate to have Chuck in a leadership role on our campus and to have him interact with our many students through the Rev. P. Carlo Rossi, SJ Entrepreneurial Chair.

The Chair is a gift of the Robert and C. Alan Wall family in honor of their uncle, Fr. Carlo Rossi, SJ.  Fr. Rossi, himself an innovator, was one of the first Jesuits to earn a doctoral degree from UC Berkeley, and became a prominent scholar of philology, professor of Romance languages and a successful author.  He lived and worked at USF for almost half a century and this chair honors his academic excellence and Jesuit spirit of service.  

In keeping with this spirit of service, Chuck Geschke has given of his time generously through a series of on-campus discussion sessions with our students.  Beginning in April he hosted a lively discussion with 30 of our MBA cohort members, sharing his views on innovation, entrepreneurship and the future of the technology industry.

Later that same month 12 graduate students from our Schools of Management and Arts & Sciences took part in a more intimate round-table conversation with Chuck over lunch; touching on a range of topics including the importance of values-based leadership.

In mid-May Chuck returned as the keynote speaker for the kick-off of the San Francisco portion of our Joint Masters In Global Entrepreneurship and Management (jMGEM) program, in which students complete their studies at three Jesuit Universities around the world:  IQS in Barcelona; Fu Jen in Taipei, and here at USF.  Who better to introduce these future entrepreneurs to the world of technology and innovation than Chuck Geschke!

In the coming months we will be expanding the Entrepreneurial Chair Program to include a range of additional on-campus events, and extending to the University, its students and alumni the opportunity to personally interact with Chuck Geschke — a man who exemplifies the life of leadership and service which is our Jesuit ideal.
FAITH, FAMILY, AND TRADITION, a video of the Wall Family, Carlo Rossi and the P. Carlo Rossi, SJ Endowed Chair.

FAITH, FAMILY, AND THE FUTURE, a video of Chuck Geschke, and his personal and professional career.

A video of Chuck formally accepting the Rossi Chair.