McCarthy Center Award-winners and Grantees 2020
Shining a Spotlight on the McCarthy Center's 2019-20 Award-winners and Grantees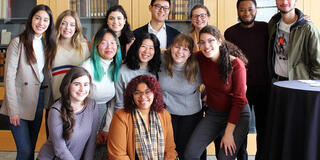 The Leo T. McCathy Center for Public Service and the Common Good is known on USF's campus and throughout the City for the high caliber of students and community partners that walk through the doors of the Center's Masonic building offices on the first floor. Each year, the Center honors its award-winning students and partners in a Lone Mountain reception that recalls founder Leo T. McCarthy's vision and celebrates his legacy.
This year, lacking the normal opportunity to celebrate with fanfare, the Center recognizes the list of student award-winners, national fellows, community co-educators and grantees in a video salute to the highly accomplished individuals and organizations committed to the Center and its work in civic and community engagement.
The award-winners are recipients of the Leo T. McCarthy Award for Public Service, the Newman Civic Fellowship, the Campus Compact One Voice, One Vote Fellowship, the Community-Engaged Learning and Engage San Francisco Community Partners Awards and the Community Partner Innovation Fund.