Passion for Justice
MBA Club Targets Ban of Plastic Water Bottle Sales
Students looking for a model for how to reduce their university's environmental impact need look no further than the University of San Francisco's MBA Net Impact chapter.
The graduate student club, which is part of an international network that includes hundreds of chapters, has made expanding the use of refillable water bottles and ridding the campus of plastic water bottles two of its short-term goals. Earlier this year the club achieved a major milestone when it convinced administrators at the School of Business and Professional Studies to retrofit water fountains on each of the school's floors to more easily refill reusable water bottles.
The club went on to develop an entire campaign to raise awareness among business and management students, in particular, by handing out refillable metal water bottles with the Net Impact logo to entering MBA students during move-in weekend.
Almost 350 branded bottles were given out, taking a cut out of the estimated 3,400 plastic bottles sold at USF each day.
"We noticed that a lot of students were wasting water bottles," said Sabeen Ahmad, co-chair of USF's MBA Net Impact chapter. "To encourage more students to use refillable water bottles we decided to give them a gift of a Net Impact branded water bottle."
Plastic water bottle production contributes about 17 million barrels of oil and 2.5 million tons of carbon dioxide in environmental pollution each year, according to Pacific Institute, a nonprofit research group devoted to creating a healthy, sustainable planet.
Net Impact is also lobbying to eliminate plastic water bottle sales campus-wide, something that it briefly succeeded at earlier this fall before customer complaints about not being able to purchase the drinks prompted USF's food services provider, Bon Appetít, to restock a limited number of the plastic bottles.
"It looks like this will be more challenging than we thought and we might have to rethink our strategy," Ahmad said.
As a club whose mission it is to grow a network of leaders that use business to make positive social, environmental, and economic change, Net Impact also fosters relationships with Bay Area nonprofits, such as Young Women Social Entrepreneurs, Breathe California, and the Network for Teaching Entrepreneurship, by placing well-matched MBA students on their governing boards as fellows.
"It's a good way to put to use many of the things we learn in the classroom, from developing a business plan, to financial planning, and marketing strategies," said Arash Bayatmakou, co-chair with Ahmad.
Net Impact also takes part in service projects around the Bay Area, including a recent clean up at San Francisco's Ocean Beach in which about 40 students helped to pick up trash.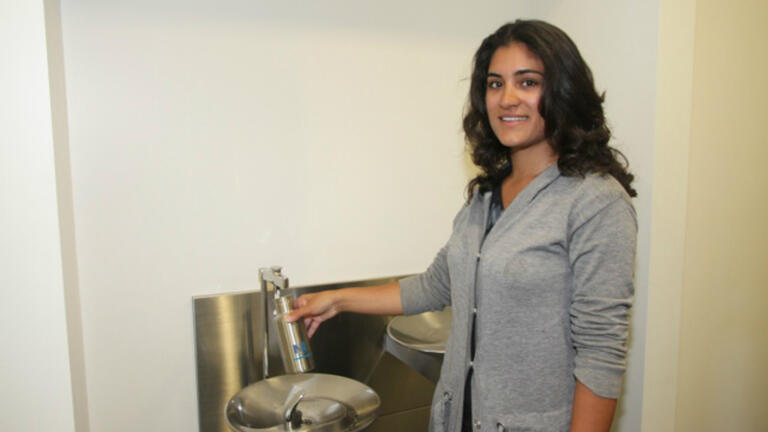 Sabeen Ahmad, co-chair of USF's MBA Net Impact chapter, refills a Net Impact-branded water bottle that the club handed out to incoming MBA's earlier this year.