Giving
Making Tomorrow a Better Day: Newsom Scholarship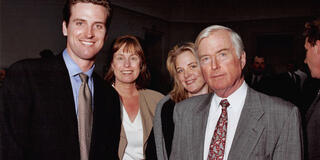 Joe Cotchett didn't know it then, but as the events of this last winter and spring unfolded and the COVID-19 pandemic spread, the importance of creating a new endowed scholarship is crucial. In reflection today, Cotchett, an attorney and longtime supporter of USF, feels grateful he set up an endowed scholarship that will help students this academic year and in the future, to provide financial support during a challenging, uncertain time. He knows that this scholarship will have an immense and lasting impact on University of San Francisco students.
"It's important that we keep access to education available and the schools accessible. It's even more critical now than ever," he said.
In late 2019, Cotchett established the Tessa T. Newsom and William A. Newsom III Endowed Scholarship Fund to support undergraduate students across all majors at the University of San Francisco, named in memory of his friends Tessa Newsom (nee Menzies) and William Newsom, the late parents of California Governor Gavin Newsom and Hilary Newsom Callan, a successful businesswoman.
"I want to see young people go to USF with support from those who have been fortunate and can help," says Joe. "USF gives students from diverse backgrounds in need of financial support an opportunity that many schools do not offer," he said.
Leadership Runs in the Family
Both Tessa and William graduated from USF. William in 1955 and Tessa, after returning to school much later in life, in 1988. William went on to Stanford Law and started his practice in 1960. Cotchett met William Newsom in the early '60s and met Tessa when she married Bill in 1966. Cotchett was inspired by the public service work William sought out, including running for a California Senate seat in 1968, which he lost to Milton Marks. It was the Newsoms' joint passion for the environment and education that became the foundation and thread of their close friendship with Cotchett, and they later made environmental trips together.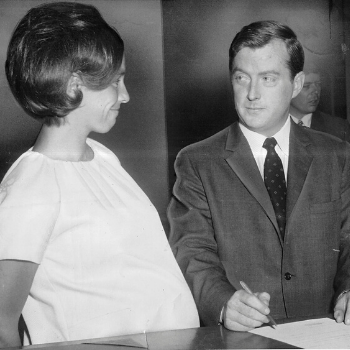 After raising Gavin and Hilary, Tessa later went on to work for Plump Jack Management Group, a collection of eateries, wine, and hospitality businesses now run by Hilary. William's career began as a lawyer in private practice with a division of Getty Oil, and as an attorney for the Getty family before becoming a commissioner in San Francisco's Superior Court. He also served an appointment by former Governor Jerry Brown to the Placer County Superior Court, and later, on the Court of Appeals in San Francisco until his retirement in 1995. After his retirement, William continued to serve members of the Getty family as a fiduciary and as director of the Ann and Gordon Getty Foundation.
In retirement, William's environmental conservation interests resulted in his purchase along with Cotchett and others of Hāna Ranch, a working cattle ranch on Maui, in order to protect the land from development. According to Cotchett, William was a lifelong learner often caught with a book in one hand.
For Cotchett, his inspiration to create a scholarship honoring the lives of William and Tessa stemmed directly from their passion and commitment to the environment and education, and in recognition of how much they respected those who need a voice in our society.
According to Cotchett, "Tessa and Bill represented San Francisco with their whole soul and they represent USF students in the environment and education, and worked hard to raise children who also fully respect those without a voice," he added.
Living the Mission to Fund the Future
Jesuit values played a large part in Cotchett's decision to establish the scholarship. Inspired in part by both Fr. Stephen A. Privett and Fr. Paul J. Fitzgerald, USF's 27th and 28th presidents. "The Jesuits represent a certain quality that is very different. They want to raise the level of all members of society, not just those that are wealthy enough to buy it," Cotchett shared.
His personal philosophy when it comes to philanthropy is quite simple: "The pants or skirt you go to heaven in have no pockets. We can't exist in today's society without helping young kids move ahead and move forward."
Just as Tessa and William committed to educational endeavors during their lifetimes, Cotchett is committed to the same cause. "This is not complex. It is all about helping kids from all backgrounds get an education," he said.
Establishing the Tessa T. Newsom and William A. Newsom III Endowed Scholarship Fund was a gesture that Cotchett hopes will inspire others to give to USF as well. "The big picture is to get more people to understand how important these scholarships are." Cotchett said., "If they've been fortunate enough to do well, they should give back to help others do well."
Since late 2019, eight other donors have stepped up to help grow the Tessa T. Newsom and William A. Newsom III Endowed Scholarship Fund. Cotchett hopes to continue the momentum and encourage others to contribute as well in the spirit of USF.
"I want to raise a lot more money for the scholarship so that we can support deserving kids that can't afford school who are going to make tomorrow a better day for our whole society. It's not complicated."
To learn more about supporting scholarships at USF contact the Office of Development at giving@usfca.edu
This gift was made in support ofChanging the World from Here: Campaign for the University of San Francisco.