Alumni
Lifelong Learners Embrace a New Classroom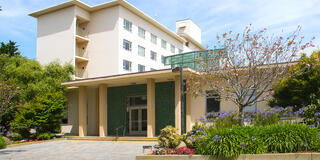 The Fromm Institute's mission is to cultivate an on-campus community for lifelong learners with a strong belief in the power of intergenerational learning. When COVID-19 began impacting the lives of San Francisco residents, Fromm's leadership had to quickly re-evaluate whether or not to continue facilitating in-person classes.
"The health and safety of the Fromm Institute's vulnerable community are of utmost importance which led to the decision to cancel all Spring 2020 courses," said Executive Director of the Fromm Institute, Derek Leighnor.
About the Fromm Institute
The Fromm Institute for Lifelong Learning is an established independent nonprofit for lifelong learners at the University of San Francisco. Fromm Institute offers daytime non-credit courses for retired adults over 50 years of age. Founded by San Francisco philanthropists Alfred and Hanna Fromm in 1976, the Institute offers intellectual stimulation and provides its members with a range of learning opportunities with access to the USF's Gleeson Library. The Institute has a firm commitment to learning and believes in learning regardless of age.
A Community of Lifelong Learners
Fromm Institute is more than just a building of classrooms, but it has become a community of lifelong learners. The heart of the Fromm Institute is being a place where students can gather to learn, socialize, and offer each other support. The Institute breaks down the barriers of isolation that so many of its students face as they continue to age. With the average student age of 74 years young, Fromm students are most vulnerable to the spread of COVID-19 and the challenging effects of isolation. The decision to cancel classes for the rest of the Spring semester was not taken lightly.
"We are a vulnerable population and we have to be careful of the virus and its effects," said Executive Vice President of the Fromm Institute Board of Directors, Albert Frankel.
Fromm Institute's leadership is committed to providing its students with a network of resources and information from other community organizations. The Institute continues to stay informed with a strong bridge of communication in partnership with the university as it monitors the COVID-19 situation. The institute's leadership is exploring other options for distance learning should the shelter-in-place regulations continue through the end of the calendar year. Staying connected and informed will be what helps the Fromm Community overcome this challenging time.
Moving to Online Learning
With the cancellation of all in-person classes, the Institute has provided all of its members with a free membership to the Frommcast through July 30, 2020. The Frommcast is an online platform where students can access more than 50 eight-week courses and single lectures. Dean and Academic Advisor, Jonathan Bailey, encouraged his students to build community by "reimagining a new way of communicating during this time."
Despite the cancellation of all in-person classes for the rest of the Spring 2020 session, students have adapted to using new technology. For some students, Zoom teleconference has become their new classroom. Many students like Marigrace Bannon have embraced teleconferencing with fellow classmates to discuss the newest Frommcast course. "So much of it is maintaining a positive attitude and the human voice can offer so much which is why I continue to stay connected with my friends from Fromm," Bannon said. With students frequently reaching out to one another, many of them have exchanged helpful resources to stay connected and engaged.
Learn more about Fromm Institute for Lifelong Learning
Support is still needed in many areas as the situation continues to unfold worldwide. Consider giving to the COVID-19 Response Fund in support of our global USF community»