Global Perspective
Let's Kakehashi! 'Bridging' Strategies for Transnational Exchange between Japan and the United States
Introduction
It is no small task to distill a week's worth of experiences, tours, visits, and government briefings into a ten-minute presentation before an audience of more than a hundred people at the Ministry of Foreign Affairs in Tokyo. But as our delegation from the University of San Francisco met in a cramped and overheated room at an aging hotel in Nara on the day before the Tokyo event, we began to reflect upon and synthesize the lessons learned from our encounters in Tokyo, Kobe, Arima, Osaka, and Nara. Add to the mix of impressions and discoveries the considerable excitement and adrenaline of traveling halfway across the world to Japan, and so, just thinking about the whole experience at first felt a bit overwhelming.
As our group of 21 graduate students discussed a diverse range of political, economic, and sociocultural topics, several threads began to emerge that linked our many perspectives into a single narrative. "Awareness," "Connection," and "Advocacy" were themes we identified that helped us frame our report not simply in terms of the policies and products we learned about, but in larger theoretical and narrative contexts as well.
Awareness gave us a sense of coming to terms with our preconceptions (as well as our misconceptions) about Japan. By confronting these less-than-informed perspectives, we were able to forge new connections. These connections helped us realize that the solution to many of the problems facing Japan, America, and the Asia-Pacific Region can be remedied by the power of connecting people. By humanizing these issues, we came to better understand ourselves and our counterparts in Japanese society, which enabled us to become better advocates in promoting multicultural networks and understandings. Advocacy can take place at many levels and through many channels, but we agreed it is most effective when we are aware of our connections with others – whether obvious, latent, or somewhere in-between—so we can more successfully navigate the shared challenges we face.
Awareness
Prior to our experience in the Kakehashi project, many of us understood Japan through a binary lens. While some members of our cohort have lived, studied, and worked in Japan, we still faced the lingering effects of the Cool Japan/Japan Inc. mindset. "Cool Japan" is the idea of a hip, cosmopolitan, technologically advanced Japan. From the newest gadget to the fashionable streets of Shinjuku and neon-soaked Akihabara, "Cool Japan" is the embodiment of a Japan known for its global popular culture. We also knew about "Japan Inc." Once perceived by most of the industrialized world as a looming economic threat in the 1980's, Japan Inc. now struggles through a third "lost decade" and the three arrows of the current administration's economic revitalization policy of "Abenomics."
As we continued to discuss and reflect upon the issues at hand, we came to realize this was just one set of binaries that outsiders construct when they think of Japan. Other complementary oppositions include the modern and ancient, where there often seems to be no middle ground between high tech Tokyo or the ancient rice fields of rural Japan. Digging deeper, we realized that Japan is often divided along the lines of the humanities and business, with apparently little connection between art and commerce. We think either of cartoons, kimono and pop music, or we think of the tireless sea of salarymen working inside of vast concrete and steel towers. Through each of these misunderstandings, we judge Japan against our own ideas and experiences, creating the binary of "America" and "Japan."
Over the course of the Kakehashi program, and alongside the privilege of listening to the ideas and experiences of individuals representing Daikin (air conditioning), Kanetetsu (processed fish products), JETRO (Hyogo prefecture), the Ministry of Foreign Affairs and others, we've come to realize that there is no such thing as a "Japanese world" and an "American world." We assumed that the Pacific separates us when it actually connects us. We are already living in a transnational and multilayered world that rests on an intersection of many different people, policies, and products. This awareness reinforced the importance of transnational initiatives such as the Trans-Pacific Partnership, echoed by Mr. Sato from the Ministry of Foreign Affairs who exclaimed on our first day in Japan, "The TPP is not dead!" Whatever the fate of this policy initiative, it is imperative that we realize the reality that already exists: partnerships are not only trans-pacific but also global. Organizations such as JETRO and Kanetetsu in Kobe demonstrated the need for local operations to deliver uniquely Japanese products to a globalized marketplace. In the heart of Japan, we became aware of what has been called "the glocal": the presence of both particular and universalizing tendencies that shape how goods and services adapt to global markets.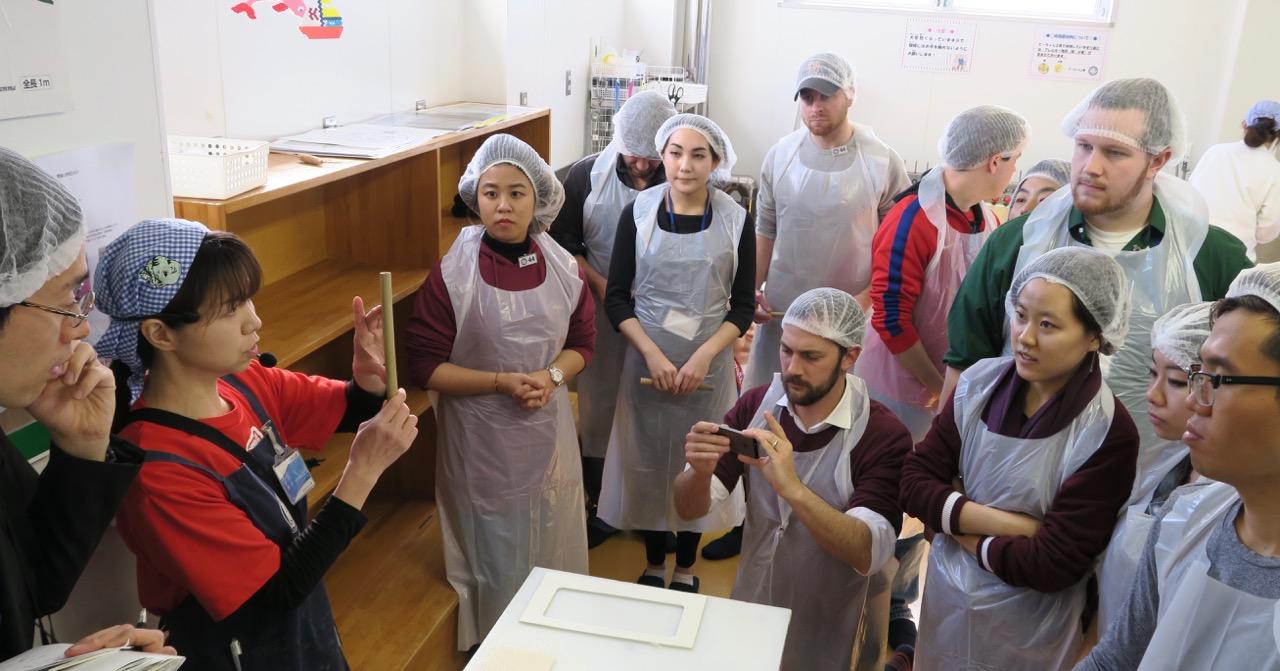 In the image above, delegates from both the University of San Francisco and UC Berkeley learn from Kanetetsu employees just how much work goes into making kamaboko and chikuwa (varieties of processed fish cake). With an aging demographic and changing consumer preferences at home, Kanetetsu corporation continues to refine its products and search for new markets in Southeast Asia. These types of business are already generating thousands of jobs and driving consumption outside their domestic markets. At the same time, Kanetetsu relies on American fishing waters to harness and gather the resources necessary for production. This intricate system of businesses demonstrates how we already experience a vastly interdependent relationship between Japan and the United States. This is the core of what we've learned: when we speak of economic ties, we're really talking about person-to-person ties.
Connection
Our connections were realized across visits to four key sites: Kobe, Tokyo, Osaka, and Nara. During the two full days spent in Kobe, our explorations and tours helped us come to appreciate how much Kobe embodies the intersection of multiple facets of Japan. Kobe is a major city, but it is surrounded by the shimmering ocean against the lush backdrop of coastal mountains. Less than an hour away you can immerse yourself in the healing waters of the hot springs in Arima, but you can also shop and enjoy all the amenities of a bustling Japanese city. Kobe is also an international port, so we came to realize and appreciate just how much Japan uses the sea not only for sustenance but trade as well. In Tokyo, we learned just how deep ties run between Japan and America. Our hours spent with representatives and staff from the Japan International Exchange organization (JICE) and MOFA emphasized how cooperation and equity between the members of the Trans-Pacific Partnership would further the economic stability and opportunities for countless businesses and people. Tokyo is not just the heart of Japan's businesses and government; it is the heart of her cosmopolitan connections with the rest of the world.
In Osaka, we witnessed companies like Daikin, which tailors human needs with the very best technological solutions available. Like the Honda Motor Corporation, Daikin is extraordinarily conscious of how its teams and products reference local conditions so that they not only meet market needs but also integrate the company into the lives of consumers. Much like how Daikin offers individual, specific solutions in room-to-room air conditioning, these locally relevant businesses become like the air we breathe: something absolutely indispensable, so that living with them becomes second nature. We were also impressed that Daikin has allowed its patented process for reducing greenhouse emissions to be shared with other companies throughout the world.
In Nara, where we entered into the centuries of Japanese history and stayed in a traditional inn, we were guided through Tōdaiji Temple by local volunteers. They generously shared their expert knowledge, and in doing so transformed our visit into a learning experience that will last a lifetime.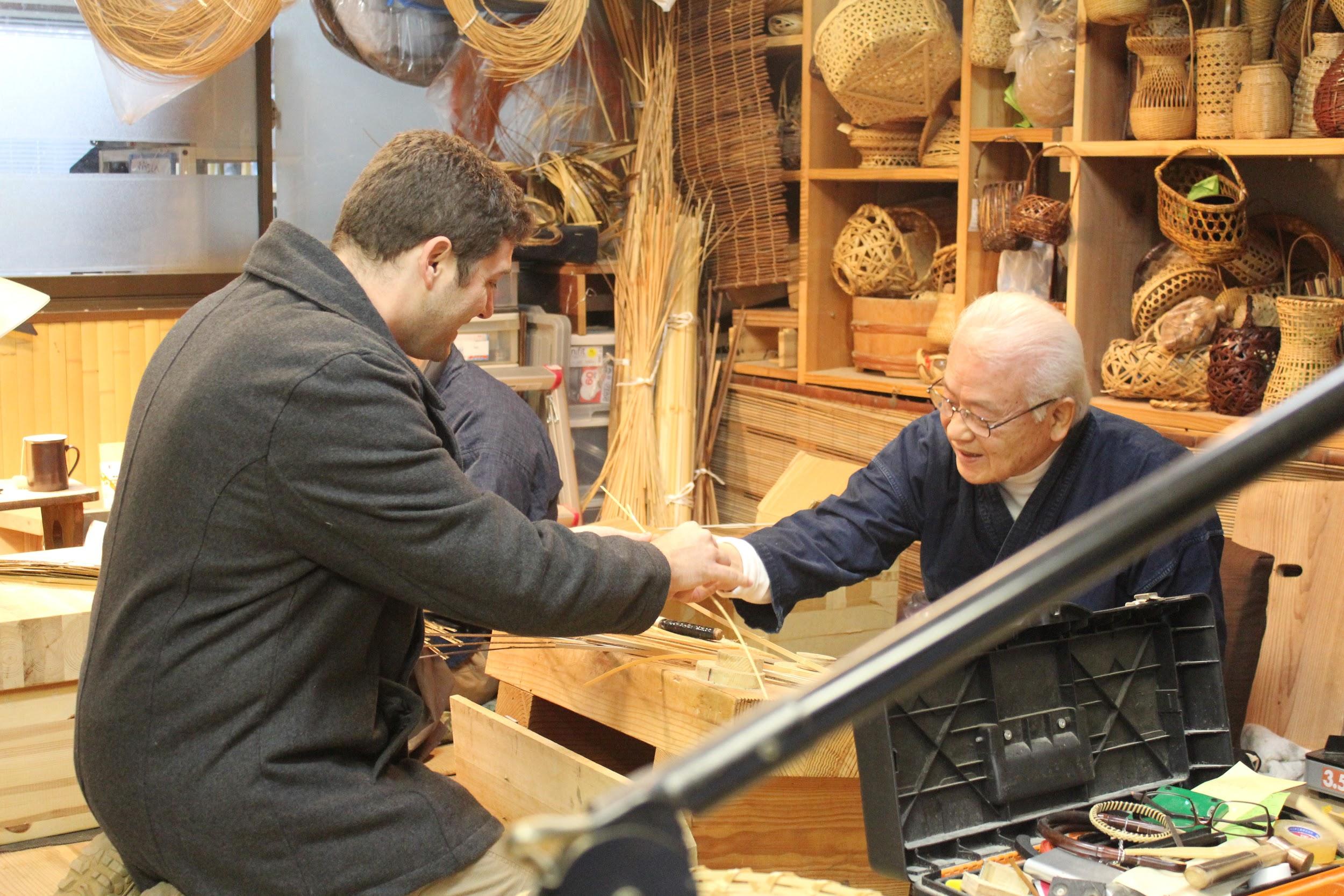 This connection between people – reaching across the space between self and other – is best illustrated in the image above. Taken during our visit to Takegei Arima Basket Kutsuwa in Arima, our colleague Leif Peterson (Captain, US Army, ret.) was able to personally connect with bamboo craftsman Mr. Kutsuwa Shouchikusai. Mr. Kutsuwa oversees three generations of craftsman in the family business, deftly working strands and shafts of bamboo into beautiful works of art as he explained both the process and history behind his work. At the conclusion of our visit, Leif was able to present Mr. Kutsuwa with a piece from his own family's woodworking business. A self-described farm boy from Illinois, Leif transformed our visit by connecting with Mr. Kutsuwa on a personal level, sharing a joke about how their respective pieces were much more valuable with the artist's signature, and comparing similar scars and hand injuries that come from a life of wood and bamboo work.
Just as physical experience often transcends verbal description, this moment of human exchange propelled our awareness forward in a true moment of connection. These connections in turn shaped our awareness about how to promote and advocate for person-to-person interactions and exchange in our own lives and careers.
Advocacy
Following these journeys and encounters we finally arrived at our moment of advocacy in Nara. Here, as we discussed what we had experienced during the trip, we bridged the gap between our earlier perceptions of a distance between the U.S. and Japan with the discovery of long-established partnerships in some of our own backyards. In reflecting upon our personal interactions throughout the tour, we found that the key ingredient in successfully building these bridges of understanding and connection is advocacy. While the power of advocacy is already at work in global exchanges, including governmental programs such as the Kakehashi project, we also discovered it at the local level in our interdisciplinary discussions and in our individual and online networks.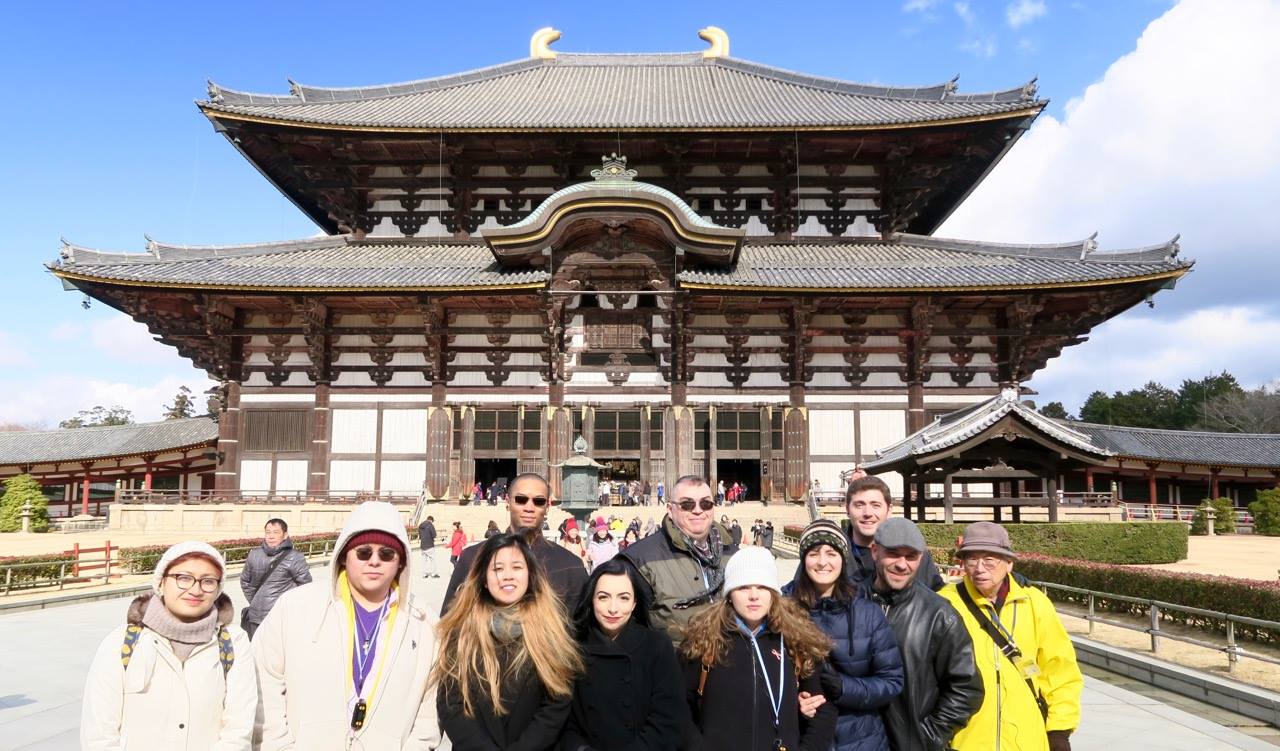 At our workshop in Nara, we arrived at a call to action that will leverage local resources by organizing a graduate student forum in partnership with the University of San Francisco's Center for Asia Pacific Studies. The Center's mission of fostering cultural and academic exchange through lectures, workshops, and tabling beautifully complements the vision of the Kakehashi Project. In addition, the Center benefits from a quarter century of relationships in the San Francisco Bay Area as well as internationally at the corporate, NGO, NPO, educational, and governmental levels, as well as in relationships with the media. Coordinating a public forum will allow us to share our experiences, produce scholarship, and present our findings to the university community and general public. By doing so, we will spread information about attractions and products that we have gained exposure to across Japan. We aspire to build additional bridges and encourage members of our community to engage with Japan on an interpersonal level. From San Francisco, we hope to foster this kakehashi or "bridging" dynamic one person at a time.
Conclusion
It is our sincere hope that these findings will help the Ministry of Foreign Affairs, as well as our fellow delegates, make sense of the complex issues facing Japan, the United States, and the Asia-Pacific Region at large. As a theoretical toolkit, the three-stage model of "awareness, connection, and advocacy" can also engage with and enable reflection upon the experiences of subcultural groups within Japan and beyond. The model can be applied to people anywhere, including members of the LGBTQ community or people living with disabilities. Our willingness and capacity to become aware, to connect, and to advocate are all necessary components in successfully navigating an international, interconnected, multilateral world.
In closing, we would like to extend our deepest gratitude to our sponsors at the Japan International Cooperation Center and the Ministry of Foreign Affairs, the Japanese Consulate of San Francisco, our brilliant coordinators and translators Ms. Kitamura Kyoko and Mr. Kurihara Tomoyuki, and to our fellow Kakehashi participants from the UC Berkeley's Haas School of Business, the University of Colorado, Boulder, Carthage College, and the Yale School of Business.