Kal Penn Charms USF at the Silk Speaker Series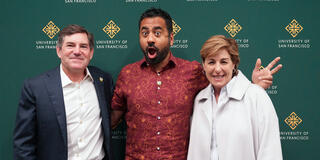 On Friday, April 14, the Silk Speaker Series hosted Kal Penn at the Sobrato Center.
With over 630 attendees, the University of San Francisco community eagerly turned out to meet actor, writer and former associate director of the White House Office of Public Engagement under President Barack Obama.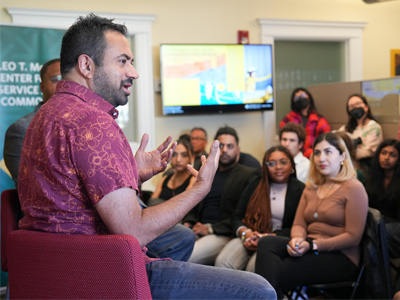 Before the event began, Kal Penn met with USF students at the Leo T. McCarthy Center for Public Service and Common Good, addressing their questions on public service, government work and policy with comical ease.
Alumni Board President Bobby Lee '07 and USF Board of Trustees Chair Jeff Silk '87, welcomed the audience with enthusiasm and introduced the evening's moderator, Associate Professor Sadia Saeed, to the stage.
Saeed brought her unique background as a historical sociologist with substantive interests in religion and politics, international human rights, and global inequalities to the conversation with Penn.
They discussed growing up first-generation to immigrant parents, finding your passion, living out your values and the importance of advocacy.
"My grandparents were active in the Indian Freedom Movement. My grandma would tell me about her stories of civil disobedience and marching alongside Gandhi," said Penn. "I didn't really think much of it at the time, but standing up for what you believe in, those were all things that I've always heard (from my grandparents). That's what it meant to be alive, to be a person, said Penn.
Penn talked about the determination he had to honor himself through his passion and dreams. He attended UCLA for five years, taking time during the week to audition for roles, and not being able to land a role or agent. After having his portfolio and demo reviewed by a friend's agent, Penn was informed that despite how good he was, it was unlikely that he would consistently get booked due to the way he looked.
When Penn did finally land an agent, they provided him with an opportunity to play a role by the name of "Taj Mahal." Penn considered not pursuing the position but upon the advice of a mentor at NBC, Penn discovered that he could change some aspects of the script if he could come up with something funnier. "Somewhere along the lines I thought I lost all agency in the process, but the executive at NBC reminded me that I do have agency," he said.
The exposure of Penn as Taj Mahal turned out to be the role that would help cast him in the cult classic series, "Harold & Kumar."
Ultimately, Penn's winding career in Hollywood would lead to a sabbatical. He shared his surreal experience applying for the role in the White House Office of Public Engagement by uploading his resume on change.gov, and months later being qualified to work in public engagement as he had already worked on the Obama campaign doing outreach to the Asian American and Pacific Islander community, arts community, and youth.
Saeed and Penn talked about how during his time at the White House, he learned the importance of connecting with people who think differently from you.
Encouraging the USF audience with some advice for current students, Penn stated, "We used to think we all want the same things, but we don't all want the same things. Having a face to face conversation with people who believe in different things will help you understand each other more… and if there is any tiny overlap, it'll serve all of us in some way."
The Silk Speaker Series, funded by Jeff and Naomi Silk, invites thought leaders in business, culture, and global affairs to share their wisdom and ideas with students, alumni, faculty, and friends of the university.