Engaged Learning
It Doesn't Take a Genius
E=MC2 might be the world's best-known algebraic formula, relatively speaking. It's also the name of a new eco-friendly competition underway at USF's Loyola Village this semester.

"It stands for Energy Saved = My Conservation2," said Joe Murphy, USF environmental safety director. "The concept being that with a little effort people can save a lot of energy."

E=MC2 consists of two components, one aimed at encouraging Loyola Village residents to conserve electricity by tracking and reporting how much they use, the other focused on making it easier for residents to recycle, compost, and conserve water on a personal basis.

Residents can win $1,000 in flexi cash from Bon Appetit, a $150 gift card for the USF Bookstore, and a yearlong Zipcar membership and one day's free car rental, among other prizes. Both residences and individuals can win awards, the former by cutting back on power and the latter by keeping a log detailing the amount of recycling, composting accomplished as well as water saved by turning off the faucet when brushing teeth or energy saved by shutting down ones computer.

A primary goal of the pilot program is to educate Loyola Village residents about how much their lifestyle impacts the environment as well as their pocket book when they are responsible for paying the full utility bill, Murphy said.

During the competition, the amount of power, including the associated cost, is tracked for each Loyola Village housing unit then reported to the residents at the end of each month in a mock utility bill. As those charges are paid as part of Loyola Village's flat-rate room and board costs, most residents never see their electricity and water consumption in detail.

"This contest gives students and residents the opportunity to see their electricity usage and the associated cost and experiment with what they can and cannot do to bring that figure down," Murphy said.

The idea is to encourage residents to develop good habits and carry them on after they leave USF, said Christin Anderson, Well Life Program manager and USF Green Team co-chair. "We want to institutionalize this type of behavior and include it as part of the university's orientation," she said.

In addition to educating the USF community about green living strategies, E=MC2 was designed to illustrate that a sustainable lifestyle is a daily set of choices involving the use of resources and the consequences of those decisions. "Sometimes, those consequences are immediate and other times, as with global warming, they take a while to manifest their full effect," Murphy said.

E=MC2 runs through Nov. 12. Winners will be announced in early December, after which USF administrators will evaluate the pilot program's results, Murphy said. The feasibility of expanding E=MC2 to other residence halls and university offices will be part of the evaluation.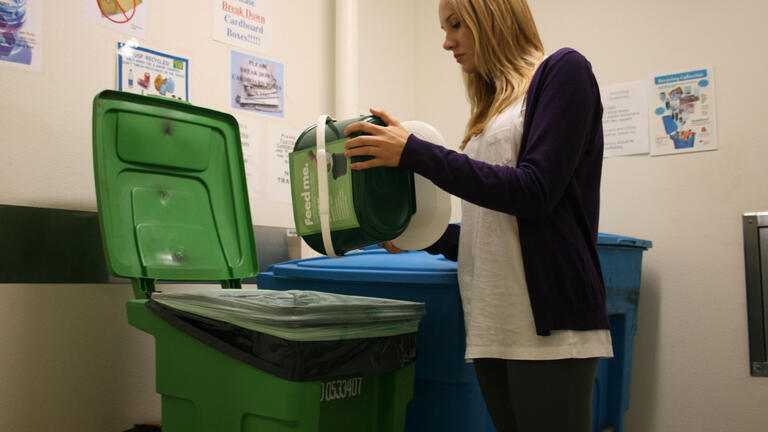 Sophomore Jolene Goldsmith, an environmental studies major, dumps an apartment bucket into a residence hall compost bin, part of a new program in Loyola Village to encourage recycling, composting, and living green.