Research
Improving Health Care: Students Help Science Fight Disease
Receptor Marker wins Gates Foundation distinguished grant
What if scientists could marshal disease-fighting cells in the human immune system to attack and kill cancer and stamp out life-threatening allergic reactions, rendering such dreaded diseases as survivable as the common cold? 
That's the endgame USF Master of Science in Health Informatics (MSHI) students Nikhil Haas '15 and Chris Atterbury '15 had in mind when they built the analytics website Receptor Marker, working under lead researcher Jacob Glanville, chief science officer at South San Francisco-based Distributed Bio. The website, the first of its kind, allows scientists to upload caches of data, which it translates into visual diagrams that highlight cell behavior — information immunologists could use to prescribe therapies once the research is better understood.
Democratizing science
"While still in its infancy, I think it's safe to say that Receptor Marker could open up research in the field in a whole new way," Haas says. 
The team's research, including the algorithms Glanville developed to drive Receptor Marker, impressed the Bill and Melinda Gates Foundation so much the project received a prestigious Gates Foundation pilot grant worth $50,000.
That's because it tackles one of science's oldest challenges: how to filter through the noise to find what's meaningful. It's a huge obstacle; a simple tumor biopsy, for example, contains millions or tens-of-millions of data points — but only a few matter for a particular diagnosis, Haas says.
"Receptor Marker helps scientists see critical information in new ways, ways that could help them develop innovative therapies that fight disease using the body's own immune system or create new cells to aid in the fight," Haas says.
On top of that, the website is free and open to researchers from around the world, democratizing science beyond companies, national borders, race, and gender, Haas says. It allows researchers to focus on what they do best, rather than build analytics websites — something they've had to do up to now and something many aren't experts in. 
Nationally recognized faculty
"Why reinvent the wheel? We can build the infrastructure once and provide the analysis in a fraction of the time," Haas says.
"Nikhil and Chris' work shows why the MSHI program encourages and supports exciting work with mentors such as Jacob through our partners," says Assistant Professor Patricia Francis-Lyon, who taught both students bioinformatics and helped connect them with Glanville.
Atterbury, who chose USF's health informatics program for its nationally recognized faculty — including Bill Bosl, Andrew Nguyen, Robert Horton, and Francis-Lyon — says there's a feeling among students that the teachers "have a genuine desire" to help.
"I know it sounds cliché, but they have been truly invaluable in equipping me to succeed inside and outside the classroom," Atterbury says.
Haas agrees. "Robert and Patricia connected us with Jacob, and that opened up so many doors. Working on Receptor Marker is how I'm changing the world, at least right now," Haas says.
Know someone with a powerful USF story? Let us know! usfnews@usfca.edu | Twitter @usfcanews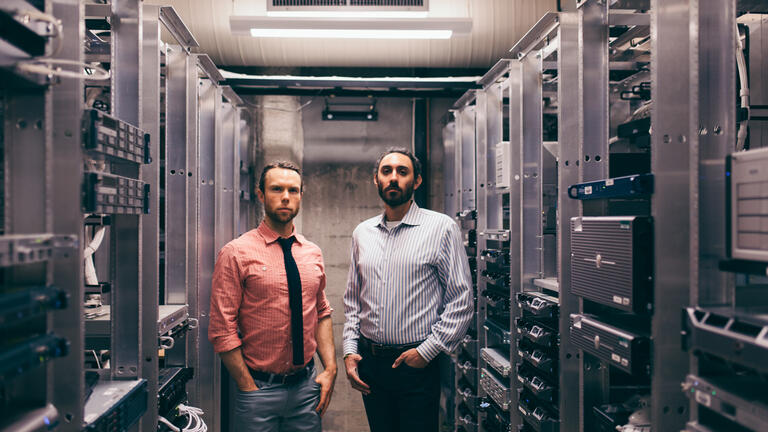 Chris Atterbury '15 and Nikhil Haas '15 (from left) created a first-of-its-kind website to help immunologists find undiscovered therapies to illnesses such as cancer.