Alumni
If Not USF, Then Who? If Not Now, Then When?
USF Alumni Step Up to Support Students During COVID-19 Crisis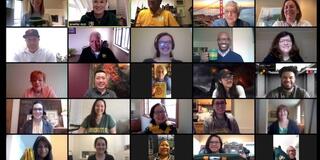 With more than 110,700 living alumni residing in all 50 states, six United States territories, and 135 countries, it's safe to say those educated at the University of San Francisco have touched nearly every corner of the globe with innovation, compassion, and Jesuit-based values.
Undoubtedly, when a crisis arises not only in the community of their former alma-mater, but everywhere in the world, in their own communities, and even in their own lives, USF alumni come together. What keeps them rooted in the heart of the City by the Bay even from thousands of miles apart, decades of graduation apart, and across disciplines seems to unanimously be the Jesuit value and desire to be people for others — especially during a crisis.
As the onset of the COVID-19 pandemic closed universities nationwide and worldwide, USF turned to remote instruction on March 14 and nearly as rapidly as the shift was announced, the USF alumni community began reaching out, giving back, and showing an outpour of support.
When Trying Times Turn Into Generosity
Robert Seidenberg '83, Alexandria Weishaar '99, MNA '10, and Altalida Miller MSOD '01 were a few of the many alumni who stepped up almost immediately to give back in support of students, faculty, and staff, upon the announcement of the university's transition to remote instruction for the remainder of the semester.
As a student, Seidenberg worked every weekend making pizzas, and used the income to support himself, his mother, and two brothers at the time. USF granted him a break in tuition to ease the financial difficulties he was undergoing.
"I never forgot that," Seidenberg said. "I can relate to today's students particularly in these challenging times — I don't mind giving some change and a bit more sometimes. If I can do it, I do it. Giving back is mostly impulsive I guess."
Weishaar, shared a similar sentiment. We should give back during a time of crisis to support the university community.

"I wanted to support our students in any way I could," she said.
In addition to being an alumna, Weishaar has worked at the university for 17 years and is currently the assistant director of Enrollment and Recruitment. USF is not only her alma mater, but has become her career home.
Through her years at the university, Weishaar recalls situations similar in severity, though not in magnitude, for the USF community. In fall 2017 and 2019, the North Bay was plagued by extremely destructive fires that ravaged for weeks. She recalled some students, staff members, and faculty members lost their homes during those times.
"I am so grateful for the student emergency funds that were available for our North Bay students following the 2017 Tubbs and 2019 Kincaide fires that I feel I should contribute to this particular fund," Weishaar shared. "My heart goes out to all students who are currently being impacted by the COVID-19 threat and upheaval."
Miller, unlike Weishaar and Seidenberg, did not attend USF as an undergraduate, but as a graduate student found a home in USF. She now serves on the Alumni Board and is actively involved with the USF community. At the Alumni Board's first meeting since the onset of the shelter-in-place order, Miller said the discussion was entirely centered around how to help students through this time.
"I was thinking how hard it must be for the students left on campus to be away from family. Or others who lost their jobs and are experiencing difficulty even paying a bill or getting groceries," Miller said. "We have to take care of each other. I wanted to provide support to the emergency fund to help even one student do what they need to do."
Mission Into Action
The sentiments above are a few of many. The university has received an increase in support of emergency funds to help students during this unprecedented crisis.
"I think first and foremost, as a Jesuit university the school falls back on morals and mission during trying times. A USF education is not just about going to school," Miller said. "It is about how you're helping the community and your responsibility to the world and what that looks like within any degree or profession you are in."
USF's responsibility and power to educate as well as respond during a global crisis like the one the world is currently in is massive.
"Our responsibility is to live by example and inspire others by doing it," Weishaar said. "Jesuit philosophy helps us think about parallel situations. I hope our community knows that if you need help, ask for it. At USF and within your own neighborhood, there is always someone willing to help. We all have to support each other right now."
Support is still needed in many areas as the COVID-19 crisis continues to impact USF. Please consider making a secure gift to the COVID-19 Response Fund.
For more information and the latest updates from USF, please check the university's COVID-19 resource page.