Hundreds Remember John Lo Schiavo, S.J., Former USF President
His funeral Mass held at St. Ignatius Church
Former USF President and USF Chancellor John Lo Schiavo, S.J., who put the university on firm financial footing and expanded academic programming, was remembered at a funeral mass in St. Ignatius Church on May 26.
The popular campus figure died May 15 at the age of 90.
The hundreds of mourners — from priests to politicians — who filled the church were representative of Fr. Lo Shiavo's range of influence and the impact he had on the San Francisco community. Those attending included officials such as Lt. Gov. Gavin Newsom and former San Francisco Mayor Frank Jordon, as well as several church leaders.
"He had thousands of friends, way before Facebook," said his cousin Lynn Duryee JD '79, a retired Marin County judge, in her eulogy. "He was a rock star," she added.
"Grace personified"
Duryee asked attendees to rise according to their relationship to Fr. Lo Schiavo: Stand if he performed a wedding for you or a loved one, she requested; if he baptized your child; if he wrote you a letter of recommendation; if he presided over a funeral you attended.
When she finished, most of the church was standing.
"If he could help you, he would," Duryee said. "When you were with him you felt like you were the most important person in the world."
His family and friends described him as respectful, generous, and kind.
"John was grace personified," said former USF President Stephen Privett, S.J., who returned from El Salvador to fulfill Fr. Lo Schiavo's request to deliver the homily.
Fr. Lo Schiavo's long relationship with the university began when he was hired as professor of philosophy in 1950. He went on to serve as dean of students and rector of the USF Jesuit Community, among other roles, before rising to the university's top position in 1977, where he served for 14 years. He then stepped down to become chancellor.
Greater impact
Under Fr. Lo Schiavo's leadership the university balanced its budget, grew its endowment, and expanded the campus to include the Lone Mountain property.
In 1982 he made national headlines for suspending the university's renowned Division I Men's Basketball program after repeated NCAA violations — a decision still referenced today in articles about sports ethics.
In 2010, when Fr. Lo Schiavo was 85, USF Magazine declared that he "has done more good, raised more money, and had a greater impact than anyone ever associated with the University of San Francisco."
"Our lives are better — happier, easier, more blessed — because of him," said Duryee. "He loved his work, and it's for that reason I hope the Lord gives him a job right away. I'm thinking he'll be perfect in admissions."
Know someone with a powerful USF story? Let us know! usfnews@usfca.edu | Twitter @usfcanews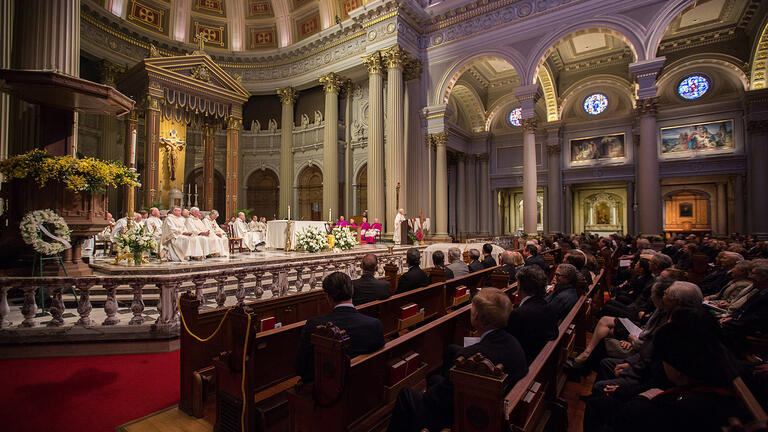 Hundreds of San Franciscans remember USF's John Lo Schiavo, S.J., during his funeral Mass at St. Ignatius Church.