From Humble Beginnings to the Major Leagues
Nearly six years from graduating the University of San Francisco's Sport Management Master's Program, alumnus Benjamin Aziz finds himself leading the way into the biggest untapped sports market in the United States: professional soccer.
Like Major League Soccer itself, Aziz's career in sports had humble beginnings. After graduating from UC Berkeley in 2003, Aziz worked in law and politics, including fundraising for Gavin Newsom's successful San Francisco mayoral election in 2007. Yet sports beckoned, a few months later Aziz earned an internship with the Golden State Warriors and was also accepted into the USF program. By the time he graduated in 2009, Aziz had worked his way into a role with the Warriors corporate partnerships team.
After a final promotion from the Warriors, Aziz transitioned to work for Think Big Sacramento, the regional initiative launched by Mayor Kevin Johnson to build a new downtown arena and save the Kings. Aziz served as the liaison between the City, the corporate community, and the Kings in a highly publicized effort that helped the team generate millions in sponsorship revenue, and ultimately winning NBA approval to keep the Kings in Sacramento.
After the project was completed, Aziz moved to New York City and gained experience in soccer, heading up corporate partnerships for the New York Cosmos during the club's re-launch.
By the fall of 2014, Aziz made it back to Sacramento to work with Mayor Johnson again, this time serving as the project manager for the city's efforts to land a Major League Soccer (MLS) expansion franchise. Since then, Aziz was hired by Sacramento Republic FC as the Vice President of Strategic Initiatives, and he recently accompanied the Mayor, Republic FC founder and president Warren Smith, and lead investor Kevin Nagle when they met with MLS Commissioner Don Garber in New York to discuss Sacramento's bid.
Read the full Sacramento Bee story.
Whether or not Aziz's efforts help Sacramento land an MLS franchise remain to be seen, but as he's shown throughout his career, he knows how to pursue what he wants to accomplish.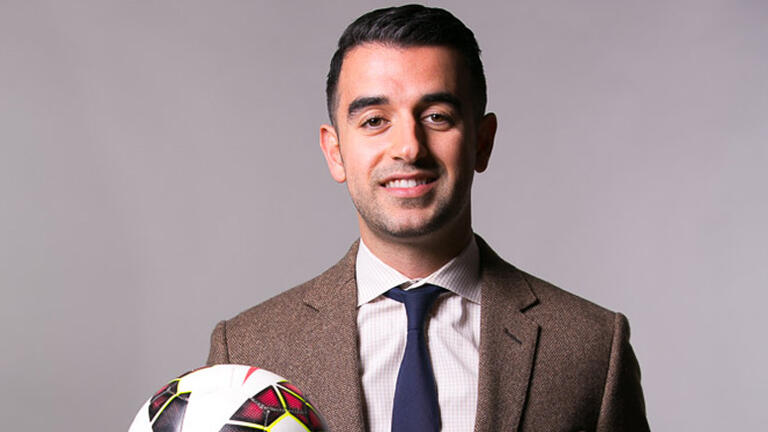 Benjamin Aziz, '09, Vice President of Strategic Initiatives, Sacramento Republic FC