Passion for Justice
Hip Hop Heals
Alumnus uses music to bring hope and purpose to underserved young people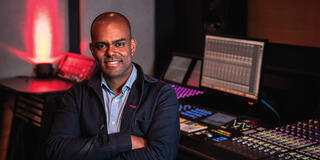 Twenty years ago, when Brandon Steppe '02 set up a recording studio in his room in Gilson Hall, he planted the seeds for a career in music.
But Steppe isn't an industry mogul. He turned his love of music — and his passion for change — into a nonprofit that supports young people.
Named for the biblical story in which David plays the harp to soothe King Saul's torment, the David's Harp Foundation in San Diego offers hope to the 400 young people it serves each year. Most are in foster care, are homeless, or are in the juvenile justice system.
At DHF, as it's known, they learn music production, audio engineering, and multimedia production from professionals who serve as mentors.
"We meet kids exactly where they're at in life," Steppe said. "These kids are passionate about hip-hop music and passionate about the art they love to make, and no one was meeting them creatively in that space."
In January, Steppe received a $500,000 grant from the Lewis Prize for Music, a new philanthropy that supports music education and career development for young people.  
With the money, DHF will expand its reach, including a program aimed at keeping young people out of the juvenile justice system.
USF Roots
Steppe traces his inspiration for the foundation back to USF, where he shared his love for recording music with other students. Then, during a senior-year trip to South Africa, Steppe was influenced by Tom Hewitt '02 at the nonprofit now known as Surfers Not Street Children.
"That's where I began to understand there are people my age who dedicated their life to really changing the world," Steppe said.
After graduation, Steppe worked in the corporate world before quitting to work as a freelance music producer and audio engineer. He built a music studio in his father's garage and neighborhood teens began stopping by. Although some of them lacked personal and academic support, their concerns disappeared inside the studio, says Steppe. He saw firsthand the power of music.
Steppe gave them studio time in exchange for getting good grades. That concept ultimately formed the basis of DHF, which he founded in 2009.
"I'm absolutely in awe of the community that has evolved," Steppe said of his organization. "It's a day-by-day walk, and it's a walk of faith for me. My wife and I have very intentionally downsized our life for the past 10 years so this could be a reality. It's our community where we really are just as blessed by the young people as they are by us."
Measuring Success
Students in DHF's programs, on average, boost their grade point averages by 18 percent. But that jump isn't what Steppe talks about most.
Instead, he'll mention the person who writes scripts for original series for companies like Netflix. Or the one who performed at South by Southwest and who is now an instructor in the program. Or the one who, one week after leaving East Mesa Juvenile Detention Facility, landed an audio engineering job after completing the program's audio engineering training inside.
David Higareda works for DHF. He was a junior in high school, ditching classes, when a friend mentioned the organization to him.
On Higareda's first day there, he recorded an original song that Steppe mixed and mastered. Higareda started seeing a reason to attend school. He boosted his GPA by a full grade, graduating from high school with a 3.2.
After graduation, Higareda started DHF's newest program, the Business Pod, along with a friend. Steppe trained the two in video production. They made professional-grade videos while meeting DHF's requirement that they enroll in community college. In February, the two launched a video production company, Warehouse Media, and now mentor the next two Business Pod students.
"The David's Harp Foundation changed my life," Higareda said. "Without it, I would be in federal prison. I'm serious about that. Everybody I grew up with who stayed in that lane, it's chaos for them. One of my best friends is doing 20 years. That doesn't come from a place of these kids are evil; we just didn't know any better. With DHF, a different picture is already painted. We just stick to the script."