Campus Life
Hawaiian Club Celebrates With Hula Dances, SPAM Eating Contest
The USF Hui O Hawaii club's annual lu'au on May 2 drew more than 200 attendees and featured traditional Hawaiian dances and a SPAM musubi eating contest. 
"The contest was like a hotdog eating contest but with a slice of grilled SPAM on a patty of rice like Japanese nigiri," said Rhonda Chu '15, chair of the club's lu'au committee.
Ironically or not, the contest was abandoned because contestants found the SPAM too salty, Chu said. 
Hawaiian 'aloha'
That didn't dampen the lu'au festivities. USF students performed traditional kahiko and 'auana hula dances, and the Tahitian ori dance with conch shells. Most popular were the Hawaiian dishes, including kalua pork and cabbage, teriyaki chicken, sweet and sour tofu, white rice, macaroni salad, and guava chiffon cake.
"We had a terrific event this year with a mesmerizing show, games, raffles, prizes, and more," Chu said. "It was a great opportunity for our student performers to showcase their talents, while sharing the aloha spirit with the USF community."
With about 50 members, the Hawaiian club is one of the largest student clubs on campus and dates back to 1972. Club members used to roast a whole pig in an underground pit on campus as part of the festivities. 
Know someone with a powerful USF story? Let us know! usfnews@usfca.edu | Twitter @usfcanews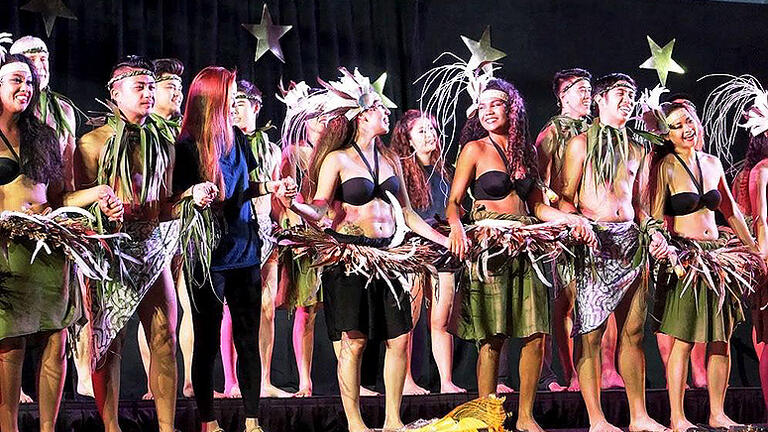 'Aloha' spirit shines at the Hui O Hawaii club's 43rd annual lu'au. Photos by Derrick Luong.