Giving
$2 Million Gift Expands Biotech Research and Career Options for USF Students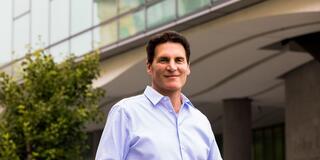 A new interdisciplinary biotechnology course — the first of its kind at USF at the undergraduate level — will give students the opportunity to learn skills that will prepare them to contribute to life science research including cutting-edge fields such as stem cell science, personalized medicine, and immuno-oncology.
A $2 million gift from biotech entrepreneur Kirk Schroeder and his wife Nicole Schroeder provides funding for the construction and operation of a cell biology lab in the Harney Science Center as well as the hiring of two key personnel to help integrate the course and manage the lab. The gift also provides for funding of directed research projects and fellowships. The course will launch in spring 2019 and is available to 16 students next semester.
"I was a physics major as an undergraduate and at the time had no idea what my career options were or how to apply what I had learned. A goal of this course is to create awareness about the trends and opportunities available in this field for all science majors," said Schroeder, who co-founded Essen BioScience Inc. in 1999 and sold it in 2017. He also co-founded NovelTech Systems Inc. in 1992; it was acquired in 1996 by Molecular Devices Corporation, where he served on the executive management team.
An Example of Engaged Learning
The course is designed for upper-level science majors in physics, computer science, data science, chemistry, and biology and will be offered each semester. Students who complete the course can propose a directed research project with a faculty mentor, said Associate Dean for the Sciences Christina Tzagarakis-Foster.
"This will allow students to continue on and further hone their lab skills and apply these skills to an independent research project," she said. "In addition, students will have the opportunity to work with the course instructors and their industry connections to apply for internship positions in the biotech and tech sector."
Students in the class will have three 50-minute lectures and two 90-minute lab sessions a week, and lab space is currently under construction.
"We are excited about the lab space that is being renovated in Harney where this course will be taught, which will resemble a 'mini biotech company,'" said Tzagarakis-Foster. "We are also excited to develop other courses that will be taught in this space, maximizing the impact on students and their career paths."
The lectures are intended to provide students background as well as insight into current topics in life science research. The labs will reinforce the lecture topics, provide unique resume-building experience, and demonstrate how students' various majors complement each other in solving problems. 
The lab will feature several optical cell-based technologies including the IncuCyte live cell imaging system created by Schroeder's former company. This technology platform essentially combines a microscope with an incubator and enables scientists to study kinetic cell biology. 
"You learn science by doing science, and technology access is a big part of the course," said Schroeder. "Together with some invited guest speakers, we will also be passing on lessons learned on an array of topics ranging from the challenges of starting a company to designing good experiments."
First Foray into Philanthropy
Schroeder grew up on an Illinois farm where his family raised corn, soybeans, and livestock.  "Growing up on a farm teaches you how to work hard, and I'm fortunate to have had that experience. My parents are still actively farming and they are in their mid 70's," he said.
Schroeder's parents did not have the opportunity to go to college. He feels strongly about his connection to students at USF, where 36 percent of students are first in their family to attend college.
"When you look at this university, and you read about its mission, and you see the diversity, including the students who are first in their family to go to school, it's inspiring," he said.
"Many of these USF students' families are making a big sacrifice for them to be here," he added. "I want to spend my time and resources on students who appreciate that sacrifice and want to make the most of their opportunity." 
Schroeder graduated from Illinois Wesleyan University with a physics degree, and he received his graduate engineering degree from the University of Illinois. He is the first to point out that he previously had no connection to USF. However, he and his wife currently reside near Monterey, and he wanted to initiate the project with a local university so that he could be more directly involved. He is partnering on the curriculum for the course with a former industry colleague, Sohiel Memarsadeghi, who also lives in San Francisco. After meeting with other universities, they decided USF was the best fit. 
"From our very first meeting with Dean (Marcelo) Camperi and Christina, it was very apparent they shared our vision. I'm very grateful to them and the whole team at USF for their support," he said. 
Once launched, he plans on extending the concept to other universities in the U.S. and Europe. 
"I've been in biotechnology for over 25 years, and I've been very blessed personally and professionally," he said. "This course was the best way I could think of to give back and hopefully make an impact on the next generation of scientists."
Learn more about how your gift supports academic programs for students at USF
This gift was made in support of Changing the World from Here: Campaign for the University of San Francisco.