Giving
Generosity Fuels Perseverance Amid the Pandemic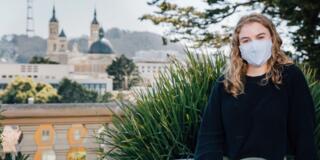 While more than a year has passed since the COVID-19 pandemic began to change aspects of everyday life, the need for financial support for students through this crisis has not waned.
The COVID-19 Response Fund continues to be an important source of support for USF students' basic needs, such as rent and food, and emergency travel during the pandemic. The fund also provides funding for other university needs related to the COVID-19 pandemic, including investing in faculty resources for distance learning, preparing the campus for students' return for in-person instruction, and other valuable resources that allow for a safe return to campus.
Since the inception of the COVID-19 Response Fund, over $1.5 million has been pledged, including a commitment of $1 million from the Board of Trustees and over 500 gifts from USF alumni.
The outpour of support is widespread and by the end of March 2021, over 930 individuals and families stepped up to the call. In total, over 935 gifts and pledges were made, ranging from one dollar to $400,000. Small gifts made a large impact, with 92% of the total number of gifts received being $1,000 or less.
Assisting Students
Students are still facing challenges, both financially and personally, as the pandemic has rearranged every aspect of their lives.
Josephine Roberts MA '22 became unemployed due to the COVID-19 pandemic. After nine months of job searching, Roberts finally landed a position and she thought her financial woes were going to lessen. But shortly after getting this job, she contracted COVID-19 and could not work.
"Receiving support from this fund helped me pay for my electricity and internet bills, along with helping me buy groceries while I had COVID-19," recalled Roberts. "This fund gave me the ability to put food on the table."
Before the pandemic, USF students could apply for financial assistance to meet basic needs. In a typical year, the Office of the Dean of Students approves an average of ten emergency requests, but at the beginning of the COVID-19 pandemic, the requests and awards surged by a staggering 4000%. They have since stabilized but remain higher than before the pandemic began.
"We have been working with the President's Office to award as many students as possible for as long as possible," explained Shannon Gary, associate vice provost and dean of students. "With our current trajectory, we should be able to meet the needs of our students."
A Safe Return to the Hilltop
In addition to supporting students financially, the COVID-19 Response Fund also plays a critical role in a safe return to in-person academic and co-curricular activities in fall 2021. Several tools are already in place that will help the university adhere to social distancing requirements and provide more options for in-person courses to meet safely.
One such investment is the new hyflex (hybrid-flexible) classrooms, portable equipment, and faculty training initiatives. While serving as a long-term investment for student learning, hyflex classrooms also support the immediate return to campus. With more hyflex classrooms available, cohorts of in-person and virtual students, or blends of both, can be better accommodated. 
"The [COVID-19 Response Fund] helped the university set up hyflex classrooms that will continue to help us navigate providing an academically rigorous and connected experience for USF students in and outside the classroom," explained Julie Orio, vice president of student life. "Not only will the hyflex classrooms help us through this pandemic they will help us with a sustainable academic experience if additional challenges arise."
To further increase the available square footage on campus that can safely accommodate socially-distanced classes, several non-academic spaces have been converted to classrooms and there is a possibility that some classes may have the option of meeting outdoors.
Together, these resources will ensure that students can return to campus as safe as possible, and return to the community that has fully supported them during a year of uncertainty.
"As a graduate student, I have made the choice to continue my education, and knowing I am attending a university that supports students when they are in need is extremely heartwarming," said Roberts. "The university was my only support system during this time, and the supporters of this fund are doing more than they even realize."

Support is still needed in many areas as the COVID-19 pandemic continues to affect our students, staff, and faculty's daily lives. So we can continue to support our global USF community, consider giving to the COVID-19 Response Fund »