Equipped to Lead and Succeed
Former SF Mayor Receives Service Award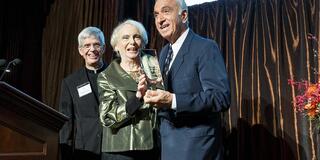 Former San Francisco Mayor Art Agnos was awarded the inaugural USF Leo T. McCarthy Center Award for Public Service at an evening cocktail reception and awards ceremony at the Merchants Exchange Building ballroom Nov. 9.
Agnos, a protégé of  former lieutenant governor and progressive political icon Leo T. McCarthy (1930-2007), was a fitting choice for the inaugural prize — which will be awarded annually to those who have inspired others to lead, devoted their energy to equity and justice, and maintained the highest ethical standards in their personal and professional lives.
"Art Agnos has devoted his life to fostering diversity, inclusion, economic justice, and ethical public service," said David Donahue, McCarthy Center senior director. "Art is the embodiment of what the McCarthy Center represents and works to cultivate in tomorrow's leaders and citizens."
HIV/AIDS to Loma Prieta
In 1976, Agnos was elected to the California assembly, representing the eastern neighborhoods of San Francisco. He pioneered welfare reform programs, worked to ban discrimination based on sexual orientation, and was among the first to address the growing HIV/AIDS epidemic in San Francisco. After Agnos was elected mayor in 1987, he created an HIV/AIDS task force and dramatically increased the city's AIDS budget. 
Agnos is perhaps best known for his leadership in the aftermath of the 1989 Loma Prieta earthquake, when he ensured housing and temporary shelter for over 2,000 displaced residents. His decision to remove the earthquake-damaged Embarcadero Freeway (SR-480) and Hayes Valley off-ramp made way for the renewal of Hayes Valley and the development of the San Francisco waterfront. 
Agnos later assumed the role of regional director of U.S. Department of Housing and Urban Development during the Clinton administration and has been a strong proponent of affordable housing development in San Francisco. 
15th anniversary
In addition to honoring Agnos, the inaugural award ceremony commemorated the 15th anniversary of the Leo T. McCarthy Center for Service and the Public Good, named after the celebrated politician. The center provides a nonpartisan forum for education, service, and research on public programs and policy-making, and supports community-based learning opportunities for students.
"We were all in awe of Leo, and Leo was in awe of Art," said U.S. House Minority Leader Nancy Pelosi, who attended the gala and took to the stage to congratulate Agnos and highlight McCarthy's role in developing moral leaders with strong values.
Like Agnos, Pelosi was a protégé of McCarthy. "I know he's looking down on us thinking, 'Perfect. Perfect that Art would get this award. Because Art is a progressive person inspired by values, a natural leader. And in his role in the assembly and as mayor he could act upon those values." 
Agnos thanked USF and the McCarthy Center for the recognition. "Going forward," he said in accepting the prize, "I hope this award also recognizes so many of the unsung heroes I've come across in my work who make enormous contributions to our society throughout the country."
Know someone with a powerful USF story? Let us know! usfnews@usfca.edu Twitter @usfcanews