Alumni
Battling COVID-19 through Valor and Ownership
How USF and UCSF are working to Flatten the Curve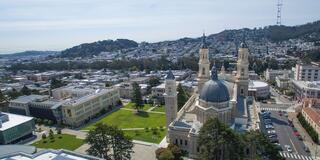 Mark Laret, UCSF's Health president, and Richard Callahan, USF professor, were featured in the university's virtual event lineup. As the two reflect on the measures that both institutions are taking towards medical relief efforts, they reveal how these uncertain times have influenced new awakenings.
On May 6, Mark Laret, president and chief executive officer of University of California San Francisco's Health, joined Richard Callahan, co-director of USF's Masters of Public Health Program for another segment of the university's virtual speaker series. Here, the two discussed the action being taken on both campuses to avoid overwhelming the public health system as thoughts of reopening California are drawing near.
As Bay Area residents experience the long term effects of precautionary protocols, such as the shelter-in-place initiative, Laret and his colleagues have continued to make promising strides towards flattening the curve in the battle against COVID-19. 
Partnerships and Healing Agents
Callahan opened the conversation by exploring the depths of USF's honored alliance with UCSF. Aside from other historical milestones, Laret mentioned a longstanding history of USF alumni going on to work at the graduate university.
"It's great to be talking to our virtual cousins just across the road," said Laret.
In these uncertain times, Laret encouraged neighboring communities to lean on one another in a way that advocates for greater awareness and accountability.
In partnership with other medical centers across the nation, Laret described how UCSF continues to deliver necessary health care to those who need it most, particularly during this time of crisis. He mentioned a new volunteer program that has relocated dozens of the university's practicing physicians to hospitals in New York and Arizona. 
When reaching out to individuals directly responding to highly affected areas, doctors working in Intensive Care Units shared with Laret how patients must adapt to the psychological effects, the loss of other functionality, or loved ones.
"These are the most moving discussions that I've ever been involved with," Laret said regarding the touching realities the doctors had experienced.
Doing Our Part
From the work of administrators, student nurses, and Masters in Public Administration students, Callahan detailed just a few ways that USF is similarly aiding in the recuperation of our nation's health system.
Callahan recognized a few USF alumni who have dedicated their careers to conserving the welfare of their communities. Mayor London Breed MPA '13 and Colleen Chawla MPA '03, Director of the Health Care Services Agency for Alameda County, are among the many who are tirelessly working to eradicate the virus.
"When there's a fire, there are some people who run from it and some who run towards it," Laret said. "Seeing the character of those who at great personal cost and personal peril say that they will help is inspiring to me and I'm profoundly grateful." 
Inspiring Deeper Connections for the Future
Larret applauded the work that institutions, such as USF, have engaged in for the sake of our community's well-being and the education of future generations. He acknowledged the budding foundations of friendship and partnership that continue to arise during these unprecedented times. 
"We've developed a lot of new friendships. You and I are now friends, Rich. This wouldn't have happened without COVID," adds Laret.
The two encouraged viewers to take this time to embrace their communities as they hope this will also spark a transformation in how we approach the health infrastructure of our nation. 
Callahan commended the tremendous contributions that USCF has made for the sake of prioritizing and preserving human life.
"Those who really live by the core values of integrity, responsibility, and inclusiveness mean a great deal to us and inspire us as a Jesuit university," said Callahan.
Support is still needed in many areas as the situation continues to unfold worldwide. So we can continue to support our global USF community, please consider giving to the COVID-19 Response Fund.