Alumni
Bridging the Gap
Five Questions with Lester Andrew Uy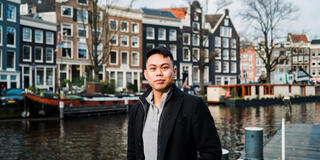 After graduating from USF with a degree in business administration, Lester Andrew Uy '17, has taken on the challenge of becoming both pre-med and pre-law across the bridge at California State University, East Bay. The decision to study both medicine and law may seem daunting, but for Lester, it is a source of passion.
How did USF help you get you to where you are today?
USF's mission of cura personalis and "Change the World from Here" resonated with me deeply. Having spent part of my childhood in Canada and then moving to the United States, there's an acute contrast in ideologies: distinguishing myself either as part of the community or as an individual. For the longest time, I've had difficulty reconciling being a good citizen of the world while trying to carve out my own path that stands out.
USF truly allowed me to explore the dichotomy of what it meant to be a global citizen, a problem solver, and a leader. It gave me the platform to develop a voice for social justice and advocacy within the community. For example, at my most recent program, I organized students to form a medical student association for better representation of both culture and career interests.
My time at USF has always kept me thinking about how to help others, how to make an impact, and how we can make today better than yesterday. Through the Pride Alumni Group's work, we hope to make that journey a bit more manageable and welcoming to our current and future community members.
You graduated from USF with a bachelor's of science in business administration. How does your background in business translate to the work you're doing now?
Most of the work I do at the moment is pro-bono work at various interest groups, including the Asian Pacific American Medical Student Association  and the Council for Young Filipinx Americans in Medicine, while preparing for graduate school admissions this upcoming spring and summer.
My prior work as a senior auditor taught me how to investigate issues methodically and in great detail as well as how to adapt and lead new teams. The variety of projects that we had also challenged us to think in novel ways while complying with regulatory schemas. By marrying a business background with that very same entrepreneurial spirit, I can leverage my skill set to empower healthcare organizations and help navigate them through complex compliance processes to keep them reaching toward and accomplishing their mission statements. It's all a part of promoting the well-being of underserved communities, educating others about the importance of minority health, increasing access to quality healthcare for all, and working to eradicate healthcare disparities.
You serve on the Pride Alumni Group. What was your motivation to serve and how did your experience at USF play a role in that decision?
Transitioning from high school to college is a difficult task on its own, even more so with the added challenges of exploring one's sexuality. It becomes an arduous self-reflective journey that could've been made easier if I had role models, support groups, and other resources. I want to primarily be there as a support group for those who identify as LGBTQ+ or who are exploring their identities, something that I didn't necessarily have during my undergraduate career. Certainly, if it existed during my time, I would have enjoyed the increased visibility.
You are both pre-med and pre-law at California State University East Bay. What drew you to these fields?
When I was younger, I was initially interested in pursuing medicine because of its potential to help others. The discipline is inherently personal, with the provider having the privilege of caring for another in their most vulnerable times. Additionally with my parents working in the medical field, the passion they displayed for their work had a huge impact on me while growing up. On the other hand, witnessing how my parents were unfairly treated in Canada made me push toward law.
The COVID-19 pandemic underscores how much needs to be done in terms of continual investment into our public health infrastructure and how we respond to health emergencies. It's the gray area between those two disciplines of service that fascinates me as I try to find a way to merge both — to create a better society. I believe that with a background in healthcare and law, I can enhance the individual's protection, improve access to healthcare, and aid in the fight for equality.
How will additional degrees in law and medicine help you achieve your goals moving forward?
There is a sense of satisfaction that I enjoy in toggling between both the legal and medical worlds. However, because of how complex healthcare administration is at its current state, there's a disconnect between both disciplines that is currently attempting to be reconciled through medico-legal partnerships. I believe this type of work will only grow in the years to come. I think it'll be a lifetime journey to merge these two interests into a unique practice that is both meaningful and rewarding.
I hope that by being part of that exciting intersection, I'll be able to do my part in making pervasive changes in our system for the greater community. I'm eager to dedicate my time to creating work and initiatives that support improving the well-being of my communities and to continue learning ways to make a positive difference.
---
Learn more about getting involved as alumni.