Alumni
Seeing the Signs
Five Questions with Dillon Durando '04 MSOD '22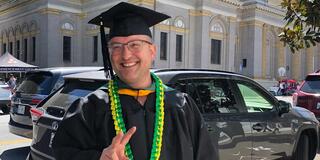 Dillon Durando '04 MSOD '22 earned two degrees on two different USF campuses. He shares the lessons that brought him back to the classroom after an 18-year education gap and what USF has taught him as a life-long learner.
You completed your undergraduate degree at the USF's Santa Rosa college in 2004, and then went on to graduate with a masters degree from USF's downtown campus in 2022. How did that journey take place?
So much happens in 18 years or so. I started in the wine industry in 1999, and when I decided that I wanted to do something new at 27, I came across USF's Organizational Behavior Program at the School of Management, formerly known as Santa Rosa's College of Professional Studies. This program would meet weekly to discuss human systems and cultural non-discriminatory education. After I graduated with USF in 2004, I settled into a government job in the city in 2009. That was when I started to take notice of USF's logo on lamp posts around the city, though it would be years until I went back.
What drew you to San Francisco?
When I was working in San Francisco, the city was filled with young "Googlers" and a booming tech industry. I was fascinated by new technology, but also I saw myself carving a career path for myself in government affairs. In 2019, as I was considering an advanced degree, I got invited to do a tour at USF's downtown campus one Saturday morning. I wasn't sure what I was getting into, but I was drawn in by the university's synergy all over again. I applied and was accepted into the program a short time after.
What did you take away from your experiences at USF?
Always persevere; you have to be willing to trip over yourself to learn something new. Do it early and do it often. I was dubbed the "pulse finder" by my classmates as I always stayed behind to talk with professors to continue in-class discussions. You'll never stop learning if you continue moving out of your comfort zone.
How have you chosen to stay connected to the university since graduation?
I stay connected by giving in support of someone else's future. I continue to do extraordinary things with the opportunities offered at USF. I can only hope to touch the lives of students in a way that inspires them to do the same and pay it forward.
What does contributing to the USF community mean to you?
I believe in making an impact in any way you can. By attending USF and working with my cohort, I learned to be an advocate for positivity and humility. Giving to this community means that I can show compassion to people who are trying to get back on track and move forward with their lives.
---
Learn more about supporting the USF School of Management or your favorite program.