Faculty & Staff Achievements
Faculty and Staff Rewarded for Service, Merit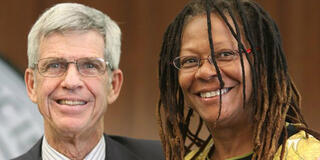 The University of San Francisco recognized outstanding faculty and staff for their accomplishments and service at the annual Merit and Service Awards May 4.
Awards honored the highest standards of professionalism, personal achievement, and dedication to USF as expressed in service, creativity, and innovation.
Recognized with the Ignatian Service Award for service to students was Professor of economics Bruce Wydick, singled out for incorporating classroom learning with service while putting students to work researching the efficacy of child-sponsor programs in six developing countries.
Term Assistant Professor and Director of the Gellert Foundation Family Business Center Monika Hudson won the Faculty Service-Learning Award. "In the three years since her appointment as a full-time faculty member in the School of Business and Professional Studies, (Hudson) has supervised over 99 service-learning projects involving 49 different community partners," the awards committee noted.
The Sarlo Prize, recognizing excellence in teaching that exemplifies the ethical principles that inform USF's vision, mission, and values, went to Elisabeth Jay Friedman, associate professor of politics. Friedman has gained a reputation among students and fellow faculty for her intellect, command of her subject as the chair of the Latin American studies program, and devotion to students, a colleague said in a nominating letter to the awards committee.
Mary Jane Niles, professor of biology, was named Faculty Mentor of the Year for her support of students as the chair of USF's Pre-Professional Health Committee for more than 10 years and as the faculty adviser for the biology honors society, Beta Beta Beta.
Mary Coen, associate director of the dual degree in teacher preparation program, won Staff Mentor of the Year for her tireless efforts in advising more than 85 undergraduate students and as the fieldwork coordinator in charge of placing those students in San Francisco schools.
The ITS Part-Time Faculty Innovations Award for incorporating new ways of using information technology in education went to Yvette Fagan, School of Education. Fagan's students used multiple software programs to create movies of students studying social sciences and developing Internet-based learning activities.
Ryan Wright, assistant professor in the College of Business and Professional Studies, claimed the ITS Full-Time Faculty Innovations Award for using software and Internet program Blackboard and wikis to efficiently manage his classes, and spearheading a class dedicated to online business applications.
Merit Awards
Kerry Donoghue, who helps manage and administer USF's social justice programs and is the managing editor of Peace Review, was a Merit Award winner.
Dennis Miller also won a Merit Award. Colleagues called Miller "a man for others" and a "take-care-of-it" individual who oversees 16-20 student staff and who made USF's P-card program a resounding success.
Joanna Woo, office assistant for the College of Business and Professional Studies' MBA program, won a Merit Award, for stepping into the director's position when there was a vacancy for four months and for modeling the Jesuit ideal of serving "the whole person" by volunteering at her church.
Lee Ryan, senior reference librarian of the Dorraine Zief Law Library, was awarded the Fr. William J. Dunne Award for stepping in to fill a void when her director left. Ryan exceeded expectations, took on extra work and long hours, and provided support where others might have buckled, according to colleagues. 
ITS' DonsApps project team earned the 2010 Team Merit Award for converting USF's email and calendaring systems and training 3,000 USF users on DonsApps in the face of an aggressive timeline.
Service Awards
Among dozens of Service Awards that went to faculty and staff who have been with USF from five to 40 years, Hartmut Fischer, Alan Heineman, Patricia Hill, Nicholas Imparato, Geraldine Lauro, Colin Silverthorne, Gary Stevens, and David Weiner were honored for four decades of service.
Wayne Becker, Janice Dirden-Cook, and BJ Johnson were recognized for 35 years of service to USF.