Equipped to Lead and Succeed
Entrepreneurial Spirit
Wife and Husband Alumni Make Award-Winning Whiskey and Rum
Therese Agnew '09 and Jake Chevedden '05 recently celebrated five years making whiskeys that turn heads and win international awards.
The wife and husband team behind Berkeley-based Mosswood Distillers have found a niche in the craft distillery game, devoting their energy to aging and blending spirits, rather than distilling from grain as many other distillers do.
"We make American whiskey but we are influenced by the Scottish tradition of blending whiskies and aging them in used barrels that enhance the spirits," says Therese, whose unusually keen nose helps her lead the distillery's blending.
For example, two of Mosswood's most popular whiskeys, its Espresso Barrel and Sour Ale Barrel, are made by blending whiskeys they've bought. They then age them in oak barrels that previously held Oakland-based Bicycle Coffee's cold brew and San Leandro-based Drake's Brewery's sour ale, respectively.
With silver and bronze Whiskies of the World Awards under their belts, Therese and Jake, who own and run the distillery by themselves, have grown Mosswood's sales to 500 barrels and $120,000 a year. Therese handles Mosswood's branding, graphic design work, and marketing, while Jake leads the sales, distribution, and finance.
The distillery's name was inspired by Oakland's Mosswood Park near the couple's home, and was chosen to underscore their emphasis on having their spirits taste of their locale. They now sell four whiskeys — an Apple Brandy Barrel and a rotating seasonal barrel, on top of the Espresso Barrel and Sour Ale Barrel — as well as a light and a dark rum. Spirit lovers can find their label at watering holes such as Bourbon & Branch and Hard Water in San Francisco as well as other restaurants and bars around the Bay Area. Mosswood is also sold at Total Wine & More, a competitor to BevMo, and other specialty bottle shops.
USF introduced them
Therese, a fine arts major, and Jake, a politics major, met at a fellow USF alum's birthday party in Golden Gate Park in 2008. The couple started making whiskey together in 2010, founded Mosswood in 2012, released their first spirit in 2013, and married in 2015.
"To this day, our best friends are those we made during our time at USF," says Jake.
Both Therese and Jake remember their time at USF fondly. Jake says reading Supreme Court cases in politics class made it easier for him to read the law related to alcohol licensing and sales. And Therese, who grew up in Spokane, Washington, appreciated how USF introduced her to different art and cultures.
"I remember Karen Bouwer, who taught classes that were part of my African Studies minor, encouraged us to get out into San Francisco to attend African film festivals and experience the diversity of the city," she says.
Want to try Mosswood?
Looking ahead, Therese and Jake plan to expand Mosswood's distribution beyond the Bay Area and into neighboring states. And they'll continue to develop new barrel finishes for whiskey and rum. At the top of their list is expanding the production of a whiskey aged in nocino (walnut liquor) barrels.
"We make the nocino ourselves from walnuts from a tree in our backyard," Jake says. "The whole process is something we enjoy and the whiskey, which we released a small amount of last fall to celebrate our five-year anniversary, seems to be gaining a following."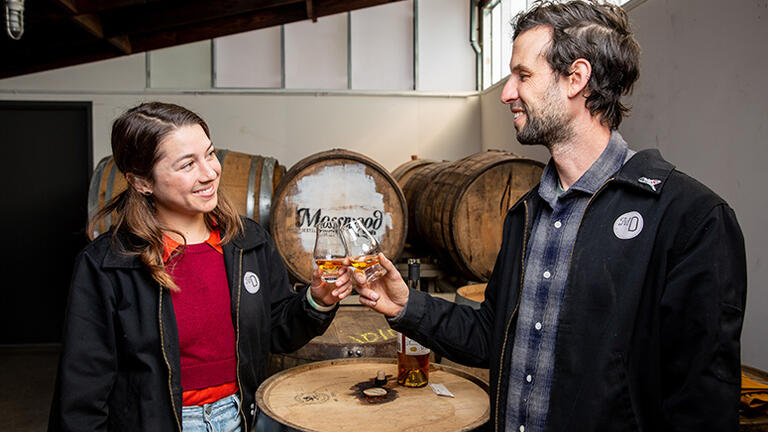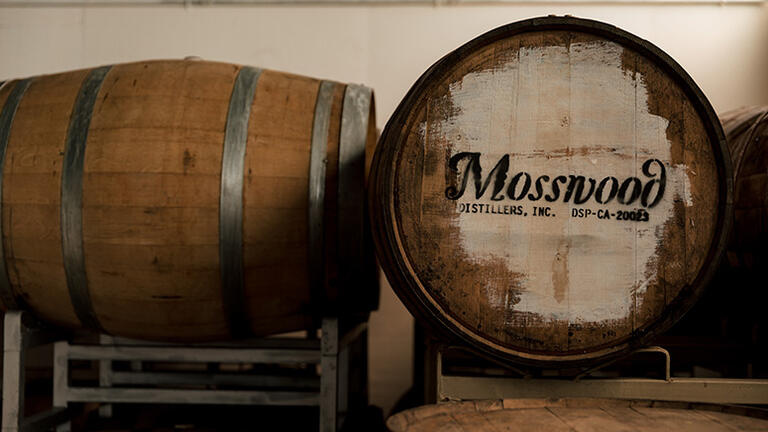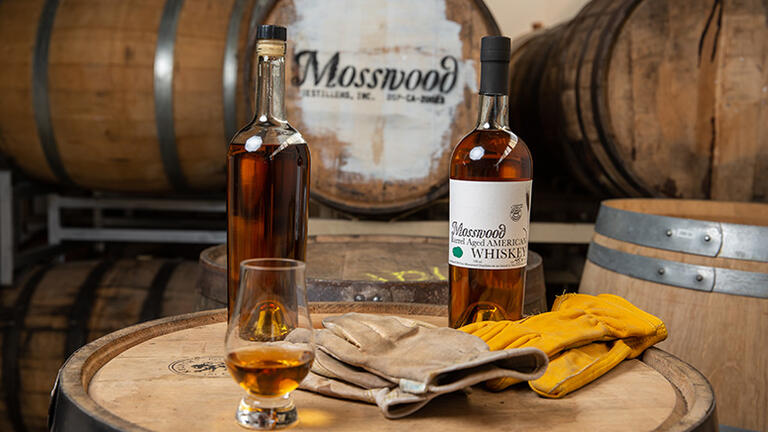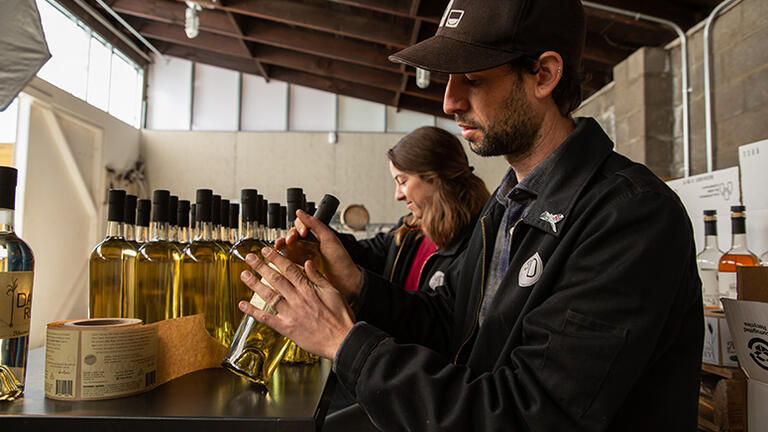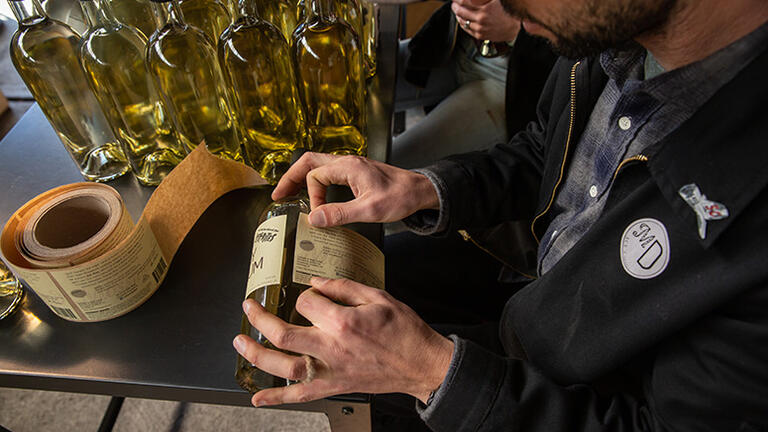 Therese Agnew '09 and Jake Chevedden '05
Mosswood barrels and whiskey bottles
Therese Agnew and Jake Chevedden packaging whiskey bottles
Jake putting a sticker on the whiskey bottle