Diversity
Enrich Your USF Parent and Family Experience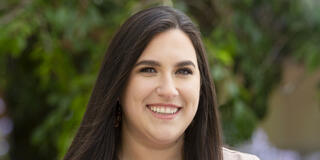 Meet Darian Rosengard, one of USF's newest addition. Rosengard is a sixth-generation San Franciscan and our associate director of parent and family philanthropy.
What are you most excited about in your new role?
In my previous professional and volunteer roles, I gained a wealth of experience and knowledge about the world of higher education. I saw, firsthand, how higher education has the power to transform lives.
I'm most excited to work with the inspiring community of parents, families, students, alumni, faculty/colleagues, and leaders at USF. Each and every one of you will be invaluable and influential as we continue to grow our parent and family engagement and culture of philanthropy. 
What advice would you give to parents and families who would like to get more involved, but aren't sure where to start?
My advice is to jump right in! Engagement looks different for every family and/or individual, but the bottom line is any involvement deepens your connection with the university and with others who share your interest in supporting USF. 
You can serve as a volunteer ambassador, become a member of the Parents and Family Leadership Council, make a gift that is significantly meaningful to you, host an event, or even just attend an event. Your connection enhances the Jesuit education experience for you and our students.
Tell us a little bit about yourself. 
I am a proud sixth-generation San Francisco native, but was raised for much of my life in Sacramento. After attending college at the University of Oregon, I returned to the Bay Area. Some of my favorite activities include spending time with family and friends, exploring the rich culture of San Francisco, traveling, binge watching the latest tv shows, reading a good book, or finding the best food spots in SF (ie: sushi, dim sum, pizza, coffee shops, etc.)!
How did your path bring you to USF? 
Community service and volunteering have been important to me since childhood. I spent a lot of time volunteering as a kid and teenager, and went on to study public policy, planning, and nonprofit management in college. Through this combination of studies and extensive professional experience with other nonprofit organizations, I realized that I could turn my passion into a career in the non-profit sector. As the grandchild of a retired educator and San Francisco Unified School District administrator, education in particular is extremely important to me. My current role as the University of San Francisco's associate director of parent and family philanthropy allows me to put all of these interests and skills to use each day. Go Dons!
I look forward to doing this together with each of you. If you have suggestions or ideas for new programs, events, or other ways to engage with the school and/or greater community, let's talk — drosengard@usfca.edu or (415) 422-6703.