Athletics
Dons Go Dancing
First March Madness appearance since 1998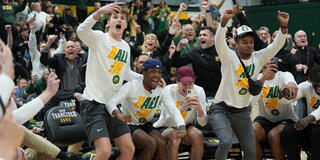 Hundreds of students, players, and alumni packed War Memorial Gymnasium and waited Sunday to see if USF would be selected for the March Madness tournament. They waited. And waited.
It came down to the last four teams. When USF was announced, War Memorial exploded in celebration.
USF men's basketball was selected to the East region of this year's NCAA Division I men's basketball tournament. The Dons, a 10 seed, will play No. 7 seed Murray State in the first round on Thursday in Indianapolis.
"I'm still in shock. My hands are shaking. My heart is beating fast," said guard Khalil Shabazz, a redshirt senior. "It was definitely nerve-racking, but coming right at the end makes our story so much better."
"This is just an incredible moment," said Coach Todd Golden, who led the team to a 24-9 record (10-6 in West Coast Conference play).
DeDee Sammut '74 and her husband, Joe '75, are enjoying the moment, too. They have season tickets to both the men's and women's games.
"The Dons going to the dance is so exciting," DeDee Sammut said. "Preseason and league games have been so fun this year. We have high hopes for the postseason! It's very deserving for a hardworking team, dedicated coaches, and a great athletic staff. Go Dons!"
Jamaree Bouyea, also a guard and a redshirt senior, said the players have enjoyed the season, especially the growing student turnout at War Memorial.
"It means the world to see everyone out there," Bouyea said.
The team will get right to work, Golden said, reviewing video of Murray State and practicing for Thursday's game. The goal? To play in more than one game, he said.
USF returns to the NCAA tournament for the first time in nearly a quarter century. The Dons also become the first WCC team since Pepperdine in 2002 to earn an at-large bid into the NCAA Tournament.
"We have a lot of history here, and we want to show what it means to be a Don," said Shabazz.
Image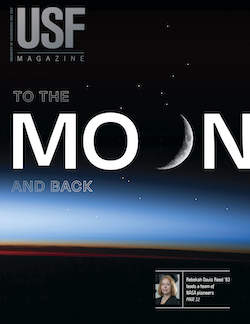 Featured in USF Magazine
This USF News story was published in USF Magazine, where you can find feature stories about university life, alumni Class Notes, and information about events at USF.