Passion for Justice
Donated Desktops and Laptops Help Close the Digital Divide
When a computer means an education, a home, a job
The University of San Francisco donated 151 computers to 16 schools and nonprofits this summer, as part of the university's ongoing effort to help close the digital divide among underserved students and families.
This year, 14 of the 16 organizations that received computers are based here in San Francisco and include the two organizations that received the largest donations - De Marillac Academy and Tenderloin Tech Lab, both located in one of the city's poorest neighborhoods. Since 2005, USF has donated approximately 1,100 retired computers to 75 organizations locally and in countries as far away as Zambia, Hungary, and Peru. The donated machines are chosen from the best three- to five-year-old retired computers, as they are replaced, and offer an upgrade for the nonprofits, schools, and families they go to - some of which have never owned a computer. USF information left on the computers is erased before donation.
Improving education
De Marillac received 20 desktops and laptops, enough to outfit the middle school's computer lab, school library, and several classrooms. The school is exceptional, in that it offers a free, Catholic private-school education to kids whose families wouldn't otherwise be able to afford it. Another 37 computers were donated to the Tenderloin Tech Lab down the street from the school. The lab offers free computer access and training to low-income families and the homeless and is an example of the type of organization that USF is committed to supporting.
For some, a first computer 
Bay Area after-school programs, such as First Graduate, the Up on Top After School & Summer Program, the women and children's shelter Cameo House, and the Pilipino Senior Resource Center were also among the organizations that received computers.
"Each year, USF donates about 150 computers to local, state, and, sometimes, international organizations whose clients don't have access to them and, in many cases, don't yet know much about how to use them," said Way Leon, USF acting chief information officer and associate vice president of application services. "We try to change that." 
At De Marillac, students use the computers to learn word processing, study math, and conduct online research, while teachers use them to record grades and share lesson plans. Because De Marillac's support continues after students graduate with help applying to college, scholarships, and more, the school's alumni also have access to the computers after hours.
Leveling the playing field
"USF's donations help put our students on a level playing field with students that attend schools with well-equipped computer labs or who are raised in families that own home computers," said Chris Giangregorio, De Marillac principal. "This helps us prepare them for the 21st Century learning environment they will encounter in high school and beyond."
At the Tech Lab, more adults than students use the computers. Many take computer literacy courses, including from USF computer science and communications student-volunteers - who also provide tech support to the lab, said Megan Trotter, program manager at the lab.
"This is exciting for us because the new computers are much fast than the old ones and allowed us to do things like open up YouTube for general access, which we couldn't do with the other machines," Trotter said.
Know someone with a powerful USF story? Let us know! usfnews@usfca.edu | Twitter @usfcanews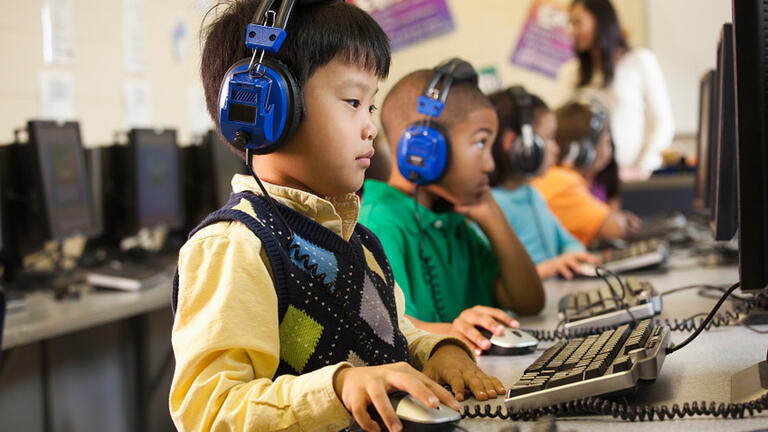 Young kids using computers