Alumni
From the Desk of Carl Nolte '54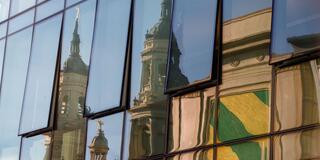 On the last week B.C.—Before Coronavirus—I went camping with some friends at Steep Ravine on the Marin County coast. We were lucky we went when we did. Only days later we were all ordered to stay home and the world shut down.<
Steep Ravine is a wildly beautiful place, on the edge of the continent with campsites on the cliffs above the Pacific  It's close to San Francisco—only a mile south of Stinson Beach—yet a world away.  You can see the city just across the Golden Gate. We figured the Cliff House was just over eight miles from our camp as the seagull flies. I got out the binoculars to take a look at the city. And there, plain as day, were the towers of St. Ignatius Church. That's interesting, I thought.  You can leave USF but USF never really leaves you.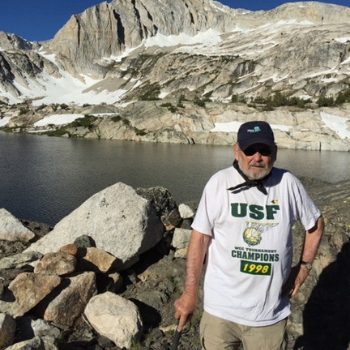 This is useful during these unusual times when we are locked in, working at home. There is never enough work, or books, or old movies on television to fill all the days. We are inside looking out. We have to turn inward. We have to think. If we learned anything in college it was to think.
We begin to notice small things: there are more birds, but no planes. The city used to have a  kind of urban roar, but now it is quiet. Even the streetcars have stopped running.
We have time to notice the fluffy clouds of springtime and the natural rhythms as the day rolls by. Or smaller things. One afternoon  I found a spider web on the back porch. Normally I would get a broom and sweep it away, but this time I took the time to look. It was a complex bit of construction, with a web to catch small prey, spun fine with interlocking parts. It was designed to move a bit in the wind, too, like a suspension bridge with spidery cables holding it in place. We see God in all things.
The virus has shut down the entire word. And now we all stay inside in the hope we can slow or stop this invisible enemy. There is a sense of both fear and good nature mixed. We never believed this would happen, and now it has.
Since we can't go outside we are forced to live inside, mostly inside ourselves. And that takes the kind of mental discipline they teach at USF—the kind of mental toughness it takes to change the world.
A few years ago I met an old veteran at the Marines Memorial Club in San Francisco. He was a fairly ordinary looking man, medium height, hair going gray. He had a certain air about him. A kind of steeliness that drew me to him. He told me that he had been a prisoner of war in North Vietnam. He said he had been held in solitary confinement, absolutely alone, for months. The aim, he said, was to break him. The enemy wanted him to make propaganda broadcasts. "I wouldn't do it,'' he said. 
"I  had to do something or I would go crazy, some kind of mental exercise.'' He said  "What did you do?" I asked him. "Well, I decided to run through my entire college education in my mind. I mean everything, every course, every class, every assignment. I tried to recall in detail what the classrooms looked like, who the other students were, what the teachers said, everything. And in chronological order. You'd be surprised what you can remember if you put your mind to it.''
He said he did it carefully and slowly over months and that got him through his time as a prisoner. He said he had learned that kind of mental exercise in college. "Where did you go to school?" I asked him. "USF," he said.
I never saw the man again and I have forgotten his name. But I never forgot what he said.
–Carl Nolte
Carl Nolte '54 is a fourth-generation San Franciscan and has been at the San Francisco Chronicle since 1961. While at the Chronicle, Nolte has held various positions, including editor and war correspondent and is currently a general assignment reporter. The award-winning journalist also pens the Native Son column, which has become a staple for the Sunday edition of the Chronicle.
Support is still needed in many areas as the COVID-19 crisis continues to impact USF. Please consider making a secure gift to the COVID-19 Response Fund.
For more information and the latest updates from USF, please check the university's COVID-19 resource page.