Passion for Justice
In Defense of DACA
Students, faculty, and staff gather to support undocumented immigrants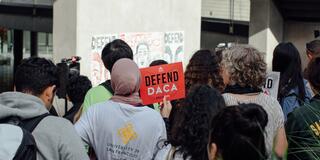 On Nov. 12, as the Supreme Court in Washington, D.C. heard arguments on the Deferred Action for Childhood Arrivals (DACA) program, USF held a campus vigil in support of the undocumented immigrants — and students — whose American dreams are now in peril.
Brought to the United States when they were children, about 700,000 DACA recipients are permitted to stay in the U.S. and work or go to school. But the Trump administration seeks to end the DACA program.
Some DACA recipients are USF students, faculty, and staff.
"We are all DACA," Clarence Jones, a USF visiting professor who served as speechwriter and counsel to Martin Luther King Jr., said to the crowd assembled outside Lo Schiavo Science.
"Anything that happens to a DACA recipient happens to me, and happens to you. Every DACA recipient must know that every person at USF — and every person who has a conscience — stands with them."
USF President Paul J. Fitzgerald, S.J. also expressed solidarity with DACA recipients. "My grandfather's grandfather walked across the border from Canada," he said. "So I'm the descendant of an undocumented immigrant."
Mary Wardell-Ghirarduzzi, vice provost of diversity engagement and community outreach, added these words:
"Allowing DACA recipients to have the opportunity to thrive in this country is the right thing to do. Continuing to fight for a path to citizenship for these young people is the right thing to do. And making certain that undocumented students at USF feel as though this institution is walking beside them, whether they have DACA or not, is the right thing to do."