It is hard to believe it is already Autumn and classes are in full swing at the School of Nursing and Health Professions. 
Image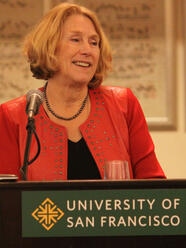 We were excited to welcome several new faces to faculty and staff as well as a record number of students. We have a total of 1585 students enrolled this year, 800 of which are undergraduate students in Nursing. The Health Professions programs now have 200 students, and the Nursing graduate student count has passed the 500 mark! Students in all programs continue to impress with their academic achievements and their dedication to service in the greater Bay Area community.
Our veterans-focused nursing program in Sacramento opened its new Clinical Performance Center this Fall with a learning space designed by our clinical skills and simulation team that offers students a supportive environment to develop their patient care skills.
We have some exciting events scheduled for the Fall semester including the October 6 Health and Human Rights Symposium, a conference focusing on the QSEN framework for quality and safety education for nurses on October 8, and a conference dedicated toward supporting caregivers, Improving Care at Home, on October 24.
The Board of Registered Nursing is evaluating our proposed new campus in Orange County where our Clinical Nurse Leader master's program is scheduled to launch in January 2016.
We have a busy semester ahead — stay tuned for updates in the next few months!