San Francisco Advantage
CSI Breaks Ground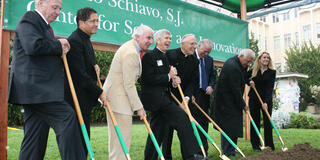 The University of San Francisco broke ground on its much-anticipated Center for Science and Innovation (CSI) Dec. 10.
The 60,000-square-foot building – designed by award-winning architecture firm NBBJ – will remake the university's presence on the main campus and expand the ability of faculty to teach advanced science.
The groundbreaking took place on the lawn south of the Harney Science Center, with excavation of the site scheduled to begin in May 2011. Occupancy of the new center, to be called the John Lo Schiavo, S.J. Center for Science and Innovation, after USF's chancellor and former president, is expected in 2014.
With more than $40 million raised for CSI, Stephen A. Privett, S.J., USF president, and Claudio Chiuchiarelli, chair of the board of trustees, thanked and congratulated major donors to the project, which is set to achieve an LEED gold rating for environmentally conscious design.
"This project will position USF as a destination for undergraduate education and further strengthen our connection to the health, environmental, and digital sciences," said Fr. Privett. "As the world increasingly looks to science to meet the challenges of such issues as global warming, it's our responsibility to educate a new generation of ethical science leaders to ensure science serves real human needs."
Jennifer Turpin, USF provost and vice president for academic affairs, called the CSI project "transformative," not just for the sciences but for the whole university.
CSI will include 17 state-of-the-art laboratories and digital classrooms, lounges and study space, and a below-grade plaza. The project also encompasses upgrades and modernization of classrooms and laboratories in the Harney Science Center, which hasn't been substantively improved since it was built in 1965.