Passion for Justice
Cost of War Not Lost on Sarlo Scholar
When a roadside bomb exploded a Humvee in his convoy in Iraq, U.S. Army Private Richard Hackett was quick to apply the basic first-aid he'd been taught.
Image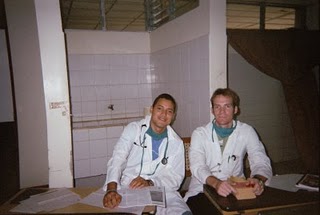 Hackett told the soldier he'd be okay. He applied pressure and bandaged the wound. Then, he loaded the wounded man into his own Humvee and drove him as fast as he could to a hospital.
"Inside, I felt complete panic," said Hackett, now a junior in USF's bachelor of science nursing program, recalling the 2003 attack. "This guy could have bled to death right in front of me. I didn't know how to stop it."
The memory of that assault was one of many that the two-tour veteran brought with him when he enrolled in USF's School of Nursing. And, truth be told, it was the pain and suffering he saw so regularly while serving abroad that made him want to study nursing.
"It gave me the feeling that there was so much more that I could do in situations like that," Hackett said.
Hackett, who left high school and earned a GED, took war experience, plus two years of training at the School of Nursing, to Nicaragua this past summer. There, he spent 10 weeks working in a public hospital alongside doctors in the emergency and labor and delivery departments.
"The hardest thing was seeing wound infection complications that needed more advanced care than we had the materials to provide," said Hackett, who documented some of his experiences in a blog. Such infections, caught early, are easily treated in the West thereby avoiding an operation, or, worse, an amputation.
But, in Nicaragua, the second poorest country in the Western hemisphere, hospitals are divided into two categories, more or less, Hackett said. Public hospitals deliver free and low-cost care with minimal resources to 90 percent of the population and private hospitals provide care that is comparable to that found in the U.S.
Hackett took the fully funded trip as one of 10 USF's Sarlo Scholars – half traveling to Nicaragua, half to Uganda in summer 2009. The Sarlo Foundation program  at USF, a Leo T. McCarthy Center for Public Service and the Common Good initiative , was designed to go beyond the university's usual week or two-week immersion trips. Now in it's second year, participants are placed "in country" for more than two months, where they learn from living with host families and applying their professional skills working for community organizations through a partnership with the nonprofit Foundation for Sustainable Development .
The program, which focuses on service-learning efforts in the areas of health care, the environment, human rights, and education, is designed to be more than a "drive-by" of the poor in the developing world, said Julie Reed, director of service-learning at USF. "It's connected to USF's mission and the Catholic mission of educating hearts and minds to change the world."
Hackett, who aspires to be a nurse practitioner, hopes his skills ultimately allow him to expand his efforts for improve health and community and have a "positive impact on people's lives."
"This program opened my eyes to a whole lot of things and taught me to think more critically about relationships between nations and short- and long-term effects of charity measures," Hackett said.
Hackett wasn't alone in his eye-opening experience abroad. Other USF Sarlo Scholars service-learning projects included assisting to establish a pig farming business for a women's group in Uganda, educating entrepreneurs in microfinance and borrowing in Uganda, and providing vocational training for at-risk youth in Nicaragua.