Alumni
A Connection Beyond Our Degrees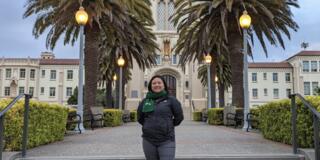 May 1 kicks off Asian American and Pacific Islander Heritage Month. For Michelle Laguatan '08, MPA '12, an active member of both USF's Alumni Association Board of Directors and the university's Asian Pacific Alumni Network (APAN), this month inspires her to reflect on and build upon the opportunities fostered by her ancestors.
Finding Community
Not long after graduating from USF's School of Management, Michelle Laguatan '08, MPA '12 was nominated to join USF's Alumni Association Board of Directors. As a result of her continued involvement within the university community, she knew that she wanted to create greater representation for her culture and others that made up a large part of the Dons community.
"I knew I wanted to learn how to better the opportunities available to current students and engage alumni to be part of the process," said Laguatan.
This ultimately inspired her to work towards enhancing the platforms that cultural groups had on campus. Seeing the success of post-graduate networks such as USF's Latinx Alumni Society, she hoped that alumni from Asian American and Pacific Islander backgrounds could benefit from finding community in a similar way.
"In these spaces, no race or ethnicity is better. We can enjoy each other's company and learn to create a space to listen and speak about the things that connect us," she shared.
Celebrating the Culture
For Laguatan, to honor her family is to honor her heritage. With Asian American and Pacific Islander Heritage Month coming up, Laguatan recognizes how she often feels most empowered by her culture when she communicates with her family and chimes in on conversations spoken in the various dialects of her elders.
"I try to learn the different languages and dialects that my family uses to communicate because I learn a bit about them and myself." she added.
She shares how the stories and customs that her Chinese, Philippine, and Spanish backgrounds have taught her have all shaped her into the person she has become.
"My cultures play a part in providing me with ingenuity, romance and a beautiful glow," she jokingly added. "Each of our cultures has their own beautiful significance and I think APAN does a great job of exploring the facets of its members that aren't always recognized."
For this reason, in her position as an advisor to APAN, she and other members prioritized creating events to celebrate and educate one another on their respective traditions, foods, and livelihoods. She felt that these moments helped students and alumni bring part of their individual selves to a community that wants to hear them and see them flourish.
"It was empowering to know that we all had a founding ancestor that made the opportunities we have possible today. We all have a narrative that is unique and what better way to show our pride than to share it with others who may understand us better as a result of telling it," Laguatan said.
Family Ties
In her early undergraduate years, Laguatan recalled her family inviting USF students who had nowhere else to go during the holiday season to dine with them. She credits her parent's generosity for inspiring her to help make APAN's group members feel that same warmth and connectedness.
"Finding a safety net among alumni that I never met in my life was the most rewarding part. To know that we can connect on much more than where we got our degrees, is to feel a sense of belonging and family," said Laguatan.
Interested in getting involved? Learn more about the Asia Pacific Alumni Network and other cultural affiliations at USF.