Giving
Coming Together a World Apart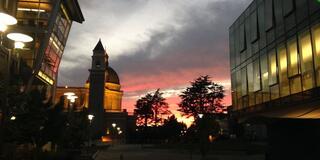 Compassion is not canceled. Education is not canceled. Love is not canceled. All of that is evident by the outpour of support from the University of San Francisco community members in support of students during the rapidly-shifting circumstances caused by the global coronavirus pandemic.
On March 14, USF transitioned to remote instruction for the remainder of the spring semester and later had to postpone the university commencement ceremony scheduled for May.
In response to the increasingly concerning situation, USF has established the COVID-19 Emergency Fund which is unrestricted at the discretion of the president. It is available to address the university's most pressing needs during this time, which might include new technology needed to get everyone ready for an online class, or to help students pay for travel, meals, and things that they might need to get home.
Another fund, the Student Emergency Assistance Fund, directly provides financial support to those in crisis at a limited IRS determined cap. Currently, the funds are being distributed at a lower than typical amount to stretch the support for as many students as possible. With additional funding, the number of students and the quantity distributed to them can both be increased.
Returning to a New Normal
Students returned from spring break to pack their dorms, apartments, reluctantly leave internships, and catch flights nationally and internationally to return home — and in some cases, face an even more critical situation there.
As borders of countries were closing and situations changing daily, Anna Dalla Vecchia '21 packed to return home to Venice, Italy, where the coronavirus pandemic has caused a nationwide shutdown, she wasn't sure she would make it back home.
Anastasia Vrachnos, associate vice provost for international initiatives, helped Dalla Vecchia secure an earlier flight and a ride to the airport.
"I heard Canada was going to close their border and knew I needed to hurry. I flew to Vancouver, to Frankfurt, and then made it to Italy," Dalla Vecchia said. "Anastasia's help changed the course of my life for the next six months. Without her, I might have been stuck and not able to come back to my family. I will be thankful to her my entire life."
To return all the way home, Dalla Vecchia had to carry a paper that allowed her to travel through Italy back to her own house which she shares with her mother. She will remain in quarantine at home for the next fourteen days and due to restrictions on travel and social contact, she is unable to visit her father at his house that is just 10 minutes away.
"It is inspiring to see how USF takes care of international students," Dalla Vecchia said. "You just feel like it is your home away from home. Even now, 6,000 miles away, USF is showing a lot of support and passion. I'm so glad I chose USF for my undergraduate program. We all still need support so I hope the USF community continues to give to that."
Dalla Vecchia's story is unique, but one of many stories of impact. During her spring break, Jady Ojiri '22 was on one of the university's immersion trips to Mexico. The trip was cut short because of the coronavirus pandemic and the students had to immediately return to San Francisco.
"Everything happened so quickly over the span of a few days," Ojiri said. "But there was never a moment when it felt like we were alone or forgotten during the transition to get back into the U.S. Even in the chaos of trying to scramble for new flights and to pack up to leave, our flight changes were covered by the university and the university ministry sent email updates every step of the way."
Ojiri returned home to Hawaii where she is continuing remote instruction like Dalla Vecchia. Both students expressed they are nervous to transition this way for the remainder of the semester but are grateful for the flexibility and compassion faculty members are already showing them.
Lamonte Stamps, director of first-year programs and family engagement, like many of his colleagues, has worked closely with faculty as students like Dalla Vecchia and Ojiri have transitioned to learning from around the world.
"This has been a team effort, and everyone is in it together,' Stamps said. "Seeing the student stories and pictures from their online classes on Instagram has been a delight and a source of comfort."
Generosity in a Time of Crisis
In light of the recent circumstances, the university has seen an increase in donations to the Student Assistance Fund and support in general, but generosity in a time of crisis can come in many forms.
Acts ranging from the campus community such as Public Safety dispatch officers waking up early to drive students to the airport to catch flights home, to staff in International Student and Scholar Services (ISSS) working through the weekend to advise students about the implications of USF going on-line and help them prepare for going home and showing up ready to go with travel documents, move out boxes, masks for travelers, and professors checking in on students in their classes offering words of support — all make the case for wide-ranging acts of generosity.
"What struck me the most is the way the community pulls together, said Anastasia Vrachnos, associate vice provost for international initiatives, "I think that is USF specific. There is not a moment where someone needed something — staff, faculty, or a student, where I haven't seen this community step up to help one another.
Some of Vrachnos' colleagues, Marcella Johanna Deproto, director of ISSS and Sharon Li, director of study abroad, with their teams have worked with partners campus-wide to support international students and students abroad during the pandemic. In the last few days, they have received several messages from students and parents across the globe thanking the university for their support during such a chaotic time.
"The messages are a positive during a time of lots of negative," Li said. "We're all working together to share information with parents and students and get them home."
"Compassionate and caring are how I would sum up the university's response to one another and to students," said Johanna Deproto.
Resources available to students during this time include the Student Assistance Fund, Career Services Center, Counseling and Psychological Services, Health Promotion Services and more.
Support is still needed in many areas as the situation continues to unfold worldwide. So we can continue to support our global USF community, consider giving to the COVID-19 Response Fund »
For more information and the latest updates from USF, please check the university's COVID-19 resource page.