Engaged Learning
Checking in with Kate Davis, Student Leadership Ambassador
My first trip as one of USF's Student Ambassadors was to the University of Minnesota in Minneapolis.
Image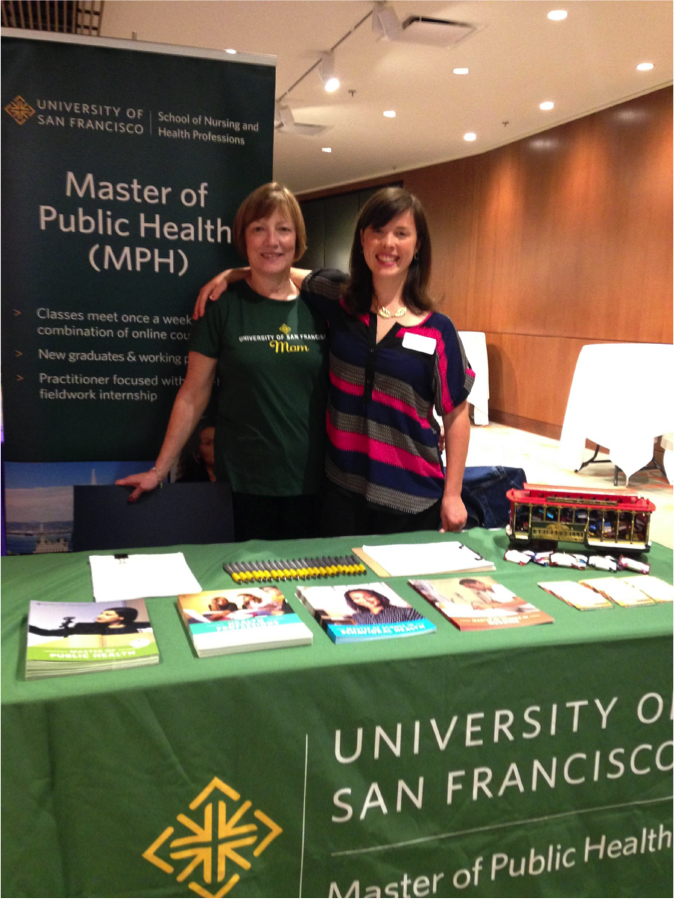 I had a fantastic experience connecting with students from all over the Midwest! Minneapolis has a thriving public health presence and is home to the fifth largest concentration of universities and colleges in the country. I loved sharing the many USF SONHP online and on-campus masters programs available at USF. It was a treat to see students so eager to hear how they could make a difference in advancing health in the great city of San Francisco.
My second Ambassador trip had a special place in my heart because it was in my home state of Oregon. The event was held at Oregon State University, which is one of the largest institutions in Oregon offering health programming in higher education. It was a treat to reconnect with recruiters from all across the country, from Harvard to Columbia to Iowa and even Colorado. I even enlisted help recruiting from my Mom who lives in Portland, Oregon. She wore her USF Mom's tee-shirt with pride! 
I also got the opportunity to recruit right in our own backyard in San Francisco on October 22nd. The Grad Fair was hosted by Idealist.org and held in a conference center next to the SF Botanical Gardens in Golden Gate Park. It was quite a sight to see hundreds of students and schools from around the country buzzing around in one conference space! It was also a moment of pride as an SF resident and being able to share my experience as a graduate student at USF to these eager and diverse students.