Giving
Charting a New Course for the Honors College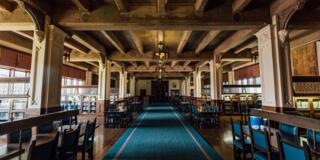 When Bay Area comedian and commentator W. Kamau Bell appeared as a USF Honors College J. Paul Getty Artist in November, he blew the doors off the place. It's just that, thanks to COVID-19 precautions still in effect, the place couldn't have any physical doors.
"Our attendance was incredible, he as a guest was phenomenal, and we were able to host him [virtually] in one of our classes in the Honors College," says Monica Doblado, program manager for the Honors College. "It was a blessing in disguise: us making lemonade out of lemons."
The wide-ranging conversation was hosted by Prof. Jonathan Hunt for over 450 members of the USF and Honors College community. The next day, Bell spoke to a small group of students on a more personal level, which is a hallmark of the Honors College program since being established with a generous gift from Gordon Getty in 2017.  No class in the Honors College is larger than 20 students. Close interaction in a seminar-style environment — with engagement with the community and luminaries like Bell — supports the Honors College's four pillars: liberal arts, global education, interdisciplinary inquiry, and experiential education.
"USF does all these things," says Honors College Director of Faculty Experience and Global Engagement, Prof. Dana Zartner. "But an Honors College experience provides students with space to explore the intersection of these pillars in a really concrete way."
Engaging with Remote Education
"We try to show our students that they're not just here to check boxes for your major or your core requirement," says Doblado. Rather, the Honors College provides students an opportunity to work with their peers from across USF, using a variety of interdisciplinary and global perspectives, with a strong humanities-centered foundation. "We show they can and do go together. They can be integrated so students have a holistic approach to real-world subjects, problems, and issues."
But real-world experiences aren't always easy on a video-chat screen. Classes like "Advocacy in Action" and "Global History of Food" couldn't engage with the community as hoped. Rising Honors College sophomores were unable to study abroad with a USF faculty member for elective credit in a program called Global Jumpstart. What might have seemed like a two- or three-week quarantine started to stretch into months of uncharted territory.
To help the Honors College facilitate the best possible remote-learning experience, Doblado, Zartner, and Co-Director Christine Young started the Honors College Ambassadors program. After a competitive application process, eight upper-class students were selected to serve as Ambassadors to the rest of the cohort. Ambassadors provide feedback and input on Honors College programming, serve as liaisons with the different majors and schools represented in the Honors College, advocate for the Honors College at recruitment events, and organize and lead events for their peers.
"They've also created a peer mentor program, which is really speaking to the moment," says Zartner. 
Ambassadors also established a successful virtual book circle that reflected the Jesuit mission of social justice. The circle centered on Me and White Supremacy by Layla F. Saad, modeling discussions around the author's prompts and reflections. 
To take further advantage of the widespread move to remote learning, speakers from around the world were invited to speak to classes via the Internet. The USF Center for Virtual Education helped the Honors College establish virtual global internships with companies and non-governmental organizations that start this summer. Global Jumpstart will return to Thailand, Costa Rica, New Zealand, the United Kingdom, Colombia, South Korea, and Denmark in 2022.
Pillars of Possibility
In the nearly four years since the transformative Getty gift, the Honors College is poised to build on its resilience and success. A new era is on the way, one that's more inclusive, more innovative, and more multidisciplinary. For example, bringing a variety of majors together for a mock trial on climate change teaches scientists how to effectively communicate a non-scientific audience, and social scientists learn how to use scientific evidence to create better law and policy. 
A new Honors College curriculum has been developed with input from students, faculty, and staff. Currently under review, the new curriculum is also designed to engage students across the university with the Honors College as well as open the door to transfer students for the first time. With other programs and institutes across USF, the Honors College is also creating a greater network of extra-curricular opportunities for students at USF. "It's definitely a culture of inquiry, but also a culture of curiosity," says Carli Thomas, director of development for the Honors College. "The curriculum is designed to teach the students how to integrate what they know with bigger ideas."
Zartner agrees. "Moving forward, there is so much opportunity for the Honors College to engage with the entire university community and really be a force for innovative education in a post-pandemic world. We are really excited."

The Honors College at USF is a priority of Changing the World From Here: Campaign for the University of San Francisco. Learn more about the campaign and how you can support USF »